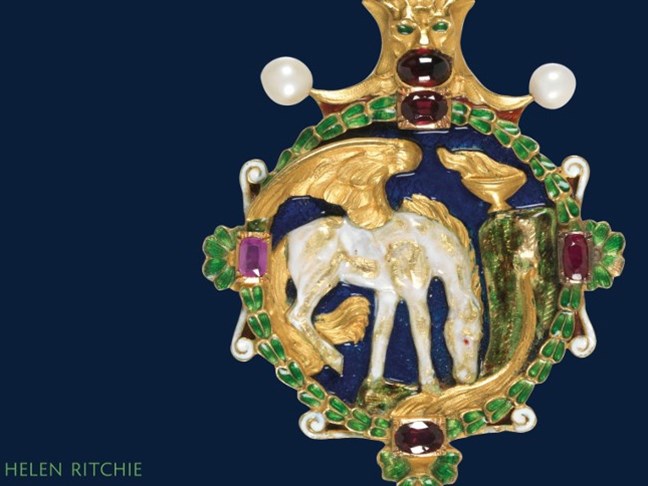 Helen Ritchie's book highlights 70 pieces of jewellery and metalwork from the Fitzwilliam Museum's applied arts collection which are not usually on permanent display. It was published to accompany a temporary exhibition of the same name last year in the Museum's Octagon Gallery.
Ritchie's introduction stresses the significance of the period from 1850 to 1940 in terms of the history of design and the strength of the Fitzwilliam's holdings in this area. Major gifts from the characterful Mrs Hull Grundy, as well as loans from the Frua-Valsecchi Collection and the Keatley Trust, mean that the neo-Gothic and historicist designs of the mid- to late-19th century are well represented, as well as the groundbreaking work of British Arts & Crafts designers. The influence of European Art Nouveau can also be traced, followed by the structural modernity of the interwar period.
The book discusses each of the designers or collectives with work represented in the exhibition. From the opening sections on Castellani and William White to the final pieces on Sibyl Dunlop and the Artificers' Guild the text is enjoyable and informative. Each designer is set in context, preferred materials, techniques and styles are outlined and design drawings are included.
Ritchie helps us to understand why these pieces should be valued, and why the collection is particular to the Fitzwilliam. The result is a confident and intimate publication which successfully tells many different stories concurrently: the history of modern British design, the character and significance of individual designers and makers, and the power and emotion inherent in the silver and jewels they produced. The publication concludes with the catalogue details of the pieces in the exhibition, a helpful glossary of terms and techniques and a bibliography.
Designers & Jewellery 1850–1940: Jewellery & Metalwork from The Fitzwilliam Museum
Helen Ritchie (ed.), Philip Wilson, 2018, £16.95 pb
Condensed from a review by Dr Frances Parton in DAS Newsletter No. 115