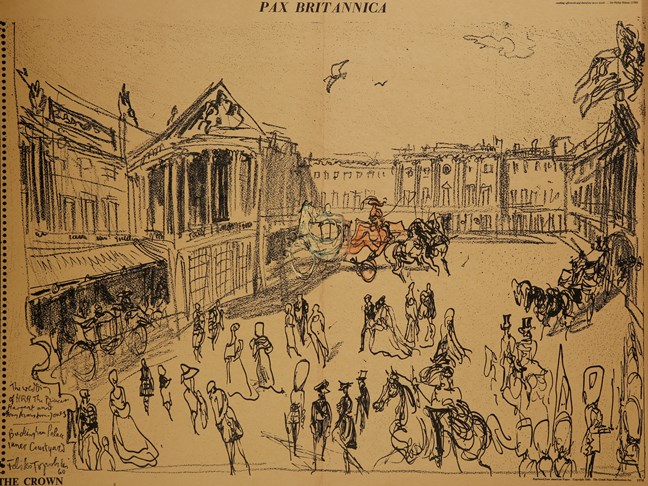 Image: Pax Britannica, Princess Margaret's Wedding, 1960, from Topolski's Chronicle, Vol. VIII, No. 11-12(167-168). ©Topolski Estate
This summer, two London venues showcase the art of eyewitness impartial reportage by the Anglo-Polish artist Feliks Topolski RA (1907-89), and his connections with the British Royal Family, including a number of works not previously on public display. After settling in England following his commission to record the Silver Jubilee of 1935, his life and works oscillated between the Establishment and Counter-Culture.
The exhibition centres on his own hand-printed and privately circulated broadsheet Chronicle which he began after recording the 1953 coronation. Its aim was to raise the status of reportage drawing and to make his art available for all. War artist, bohemian and socialite, Topolski was also committed to untrammelled public art.
The show's first location provides an opportunity to visit Topolski's Studio, which reopens to the public for the first time since his death. The second location, in the Polish Social and Cultural Association (POSK) also known as the Polish Centre, celebrates the contribution of the Polish Diaspora to British culture. The show has been organised by the Topolski Memoir charity and the Granville-Skarbek Anglo-Polish Cultural Exchange (partnership between POSK, the Polish Cultural Institute and Ognisko Polskie).
The exhibition is open Thursday-Sunday, 12:00 till 6pm at Topolski Studio, Southbank from 4 May until 15 July and at POSK Gallery, Hammersmith from 20 July to 31 August. For more information and to book tickets click here.