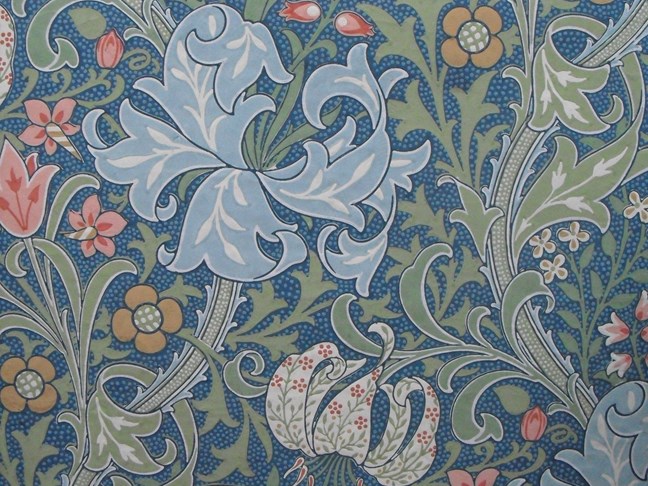 Image: Golden Lily wallpaper designed by John Henry Dearle, 1897. ©The William Morris Society
The William Morris Society in Hammersmith, London is exploring the talents of designer John Henry Dearle (1859-1932). Dearle was William Morris's apprentice and successor at Morris & Co. Although his beautiful designs, such as Golden Lily, are well known his name is not; he is often lost in the shadow of Morris. The William Morris Society aims to redress this situation by mounting the first exhibition to focus solely on Dearle's life and considerable achievements.
During his 54-year career with the Morris & Co. Dearle's natural aptitude for design, hard work, and congenial personality, saw him rise from a shop assistant in the Oxford Street showroom to a partner and Artistic Director of the firm. Dearle designed over 30 patterns for wallpaper and 40 for textiles as well as carpets and stained glass. In the late 1880s and 90s, when Morris became increasingly interested in political activities and book printing, it was Dearle he trusted as principal advisor to the firm's customers and as Chief Designer and head of the firm's workshops at Merton Abbey.
The exhibition rightly places Dearle in the spotlight, examining his extraordinary and lengthy career at Morris & Co. and his relationship with William Morris. Objects from the Society's collection, including woven tapestries, embroideries, printed fabrics, and wallpapers, will showcase Dearle's unique artistic talent.
The free exhibition, sponsored by Sanderson Design Group, continues until 17 December 2023. More details are available on the website: https://williammorrissociety.org/