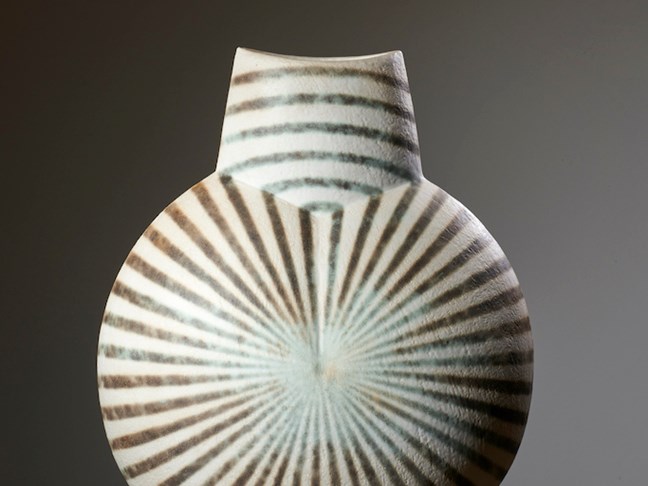 Given the popularity of the distinctive hand-built, matt-glazed vessels of British studio potter John Ward (b.1938), it is surprising that until now, little has been written about his work. However, this well illustrated volume more than makes up for this.
With close collaboration with the potter and his family, the text provides comments and insights by Ward, who has also written the Foreword. An introduction and four chapters on his personal life, career and work follow, concluding with one questioning why his work had previously been somewhat overlooked critically. Although Ward stopped making in 2016, this final chapter takes us up to the present day, analysing the recent boost in his profile.
After many different jobs, including as a BBC cameraman, Ward started formal ceramics training relatively late, aged 28. Crichton-Miller skilfully weaves this personal chronology into an explanation of key events and changes in the wider field of studio pottery, with especially good sections on changes in arts education and the rise of ceramic sculpture. She successfully balances the personal and technical – describing Ward's flat coil technique and the black pebble he has used for burnishing every one of his pots– with the institutional, describing the prominence of Ward's work in museum collections, including the recent gift of 43 pots to the Hepworth Wakefield, and ceramics sales at particular auction houses. After his move from London to the North Pembrokeshire coast in 1979, his vessels are often described in relation to 'landscape', but Crichton-Miller tackles tensions between the rural and urban in his work with nuance and specificity.
The text is enhanced by photographs of Ward at work and of his pots, mostly from private collections and beautifully photographed by Sylvain Deleu. This insightful monograph is a must-have for admirers of Ward's work but a valuable addition to the bookshelf of anyone interested in contemporary studio ceramics.
The Pottery of John Ward
Emma Crichton-Miller, Lund Humphries, 2022, £35 hb
Condensed from a review by Helen Ritchie in DAS Newsletter No. 127