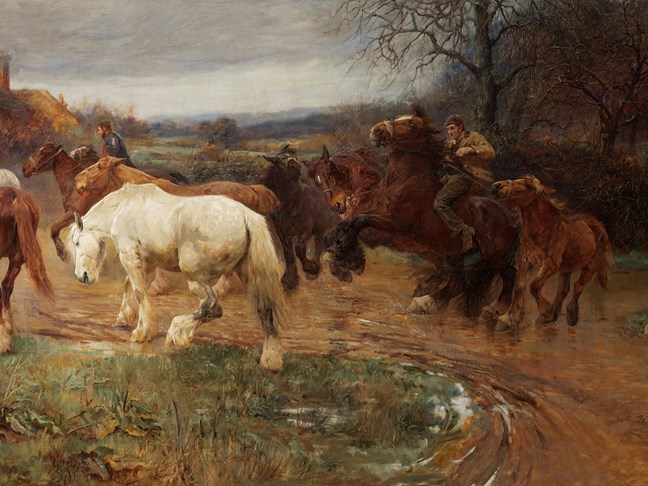 Image: Gypsy Horse Drovers by Lucy Kemp-Welch. ©David Messum Fine Art Ltd, Photo Russell-Cotes Art Gallery & Museum
Lucy Kemp-Welch (1869-1958) was one of Britain's foremost equestrian painters in the tradition of British impressionism. She was an expert horsewoman with an innate understanding and love of her equine subjects, especially working horses and was famous for her illustrations for Black Beauty.
The Russell-Cotes Art Gallery & Museum has partnered with the National Horse Racing Museum to organise a major exhibition of works by Kemp-Welch. The show will be hosted in turn at the venues (in Bournemouth and Suffolk respectively) and is the first significant retrospective highlighting her work. Curated by art historian and curator David Boyd Haycock, the exhibition will focus on key works and moments in Kemp-Welch's illustrious career, as well as the influence of Hubert von Herkomer's teaching at his school in Bushey.
The Russell-Cotes offers much of general interest to DAS members. It is a rare example of a residence of a Victorian private collector. Completed in 1901, the house reflects Moorish, Japanese and French decorative styles alongside contemporary Victorian design and displays extensive collections of artefacts, furnishings, sculpture and paintings.
The exhibition continues until 1 October 2023 at Russell-Cotes, then from 21 October 2023 to 25 February 2024 at the National Horse Racing Museum. More details are available on the museums' websites:  In Her Own Voice: The Art of Lucy Kemp-Welch - Russell-Cotes (russellcotes.com) and Events and Exhibitions | What's On | National Horseracing Museum Suffolk (nhrm.co.uk)