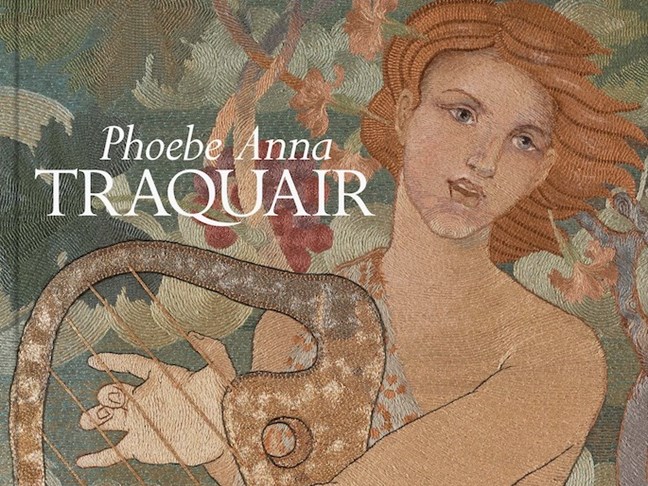 Phoebe Traquair was a dynamo of an artist, creating many ambitious embroideries, illuminated manuscripts, easel and mural paintings, furniture decoration, enamels and bookbindings, as well as designing metalwork, sculpture and pageant costumes for execution by others. She read widely and incorporated into her work poetic and symbolic ideas from Blake, Rossetti, the Brownings, Burne-Jones, Pater and many others, along with Christian and classical imagery. Later in life she received important commissions and substantial fees, but after her death in 1936 she was virtually forgotten.
Fortunately, Traquair bequeathed a fine selection of works to the National Gallery of Scotland, and her nephew's widow presented fascinating letters to the National Library. But her revival owes most to Elizabeth Cumming, whose PhD research in the 1980s has provided rich material for displays and publications. The latest book is an enlarged and updated version of a 2005 volume. With one-third more pages and almost twice as many illustrations – all in colour – it offers excellent value, although an index would have been useful. An added chapter covers Traquair's last works and legacy, and more biographical detail has been inserted throughout.
The work is still not enough known outside Scotland, but it is in the National Museums and will feature in new galleries at the National Gallery of Scotland. Also in Edinburgh are mural schemes at St Mary's Episcopal Cathedral and the Mansfield Traquair Centre. This last also owes its preservation largely to the campaigning of Elizabeth Cumming and the continued dedication of a band of volunteers. Traquair's earliest mural decorations at the Sick Children's Hospital are currently in a redevelopment site, but the evidence of sustained interest in the artist's work provided by this book will surely help to keep a focus on their safety and on future access.
Phoebe Anna Traquair
Elizabeth Cumming, National Galleries of Scotland, 2022, pb £19.99
Condensed from a review by Annette Carruthers in DAS Newsletter No. 128