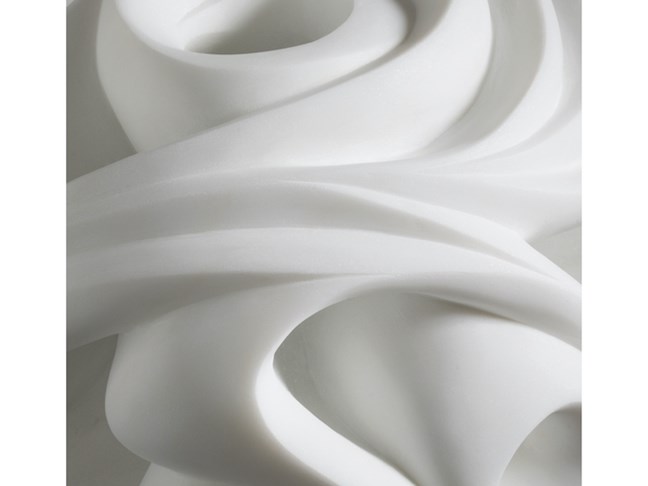 Crammed with excellent photographs this book aims to give a comprehensive account of the work and practice to date of a distinguished sculptor who transcends any distinction between art and craft. Various essays look at Cassell's inspirations, materials and process, but also the evolution of her studio space (from a one-bed flat in Blackburn to her spacious light filled Goods Shed in Shropshire), and her beginnings. These are followed by a catalogue.
Cassell's forms draw on organic and geometric patterning, often mediated through architecture. She has an astonishing ability to envisage her preliminary drawings in 3D, and a command of effects of light and shade. Predominant in her work are clay vessels deeply carved both inside and out. Clay was and is her first love but she works on it as a sculptor, not a potter. Early work was glazed, but she found that it softenened edges: 'a neat line is a neat shadow'. Beyond clay Cassell has experimented with various other materials – stone, plaster, bronze, glass, wood.
Born in Kashmir and growing up in Lancashire she found herself 'a foreigner' both in Britain and on a visit to Pakistan: this has led to a major project begun in 2009 and ongoing, `Virtues of Unity'. She aims to make her characteristic hemispherical vessels from clay collected from each of the 195 countries of the world, to underline our common human substance despite differences of colour and texture.  Pattern is for her 'a universal language'.
This is a beautiful book, its embossed cover evoking the tactile appeal of one of her swirling marble pieces, the fold-out endpapers patterned with images of her endlessly varied clay vessels. The tinted type of the text is a little trying for aging eyes; but as a record of an impressive body of work and a riot of creativity in pattern the book is most appealing.
Halima Cassell 25: Twenty-Five Years of Carving
Various authors
Available from halimacassell.com, 2022, pb £75 
Condensed from a review by Perilla Kinchin in DAS Newsletter No. 128