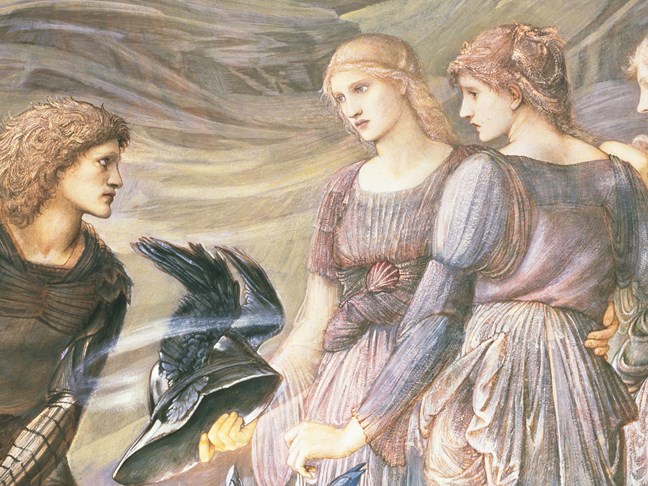 Image: Perseus and the Sea Nymphs (The Arming of Perseus), 1877, Southampton City Art Gallery
DAS members will not want to miss this brilliantly curated and well displayed celebration of `one of the last Pre-Raphaelites' Sir Edward Burne-Jones (1833-98). The show (until February 24 2019) juxtaposes grand 'exhibition' paintings, exquisite figure studies, designs for objects and interiors, 'private and personal' portraits, engravings and intimate and amusing drawings for his friends and family.
In his depictions of 'Arthurian knights, classical heroes and Biblical angels' Burne-Jones slips seamlessly between different media. Exhibits include the painted Graham Piano, 1879-80 and a small Painted Casket Decorated with Angels, 1877, stained glass from the 1850s and '60s, a tile Geoffrey Chaucer designed by Burne-Jones and painted by William Morris, 1863, embroideries, book illustrations and a brooch manufactured by Carlo Giuliano, 1885-95, as well as the rarely seen Holy Grail tapestries, 1890-94.
If there is a single reason to see the show, then it is the inclusion of the artist's two famous large-scale narrative cycles, The Briar Rose c.1890 (from Buscot Park) and the unfinished Perseus series, started 1875 (created for Arthur Balfour, later Prime Minister). Also look closely at the gouache schemes for Carlton Gardens with Morrisian acanthus-lined walls; these show Burne-Jones's intentions for an uncompleted scheme that no longer survives. The two series have never been shown together before, and the two rooms dedicated to displaying these dramatic large-scale canvases create 'immersive environments full of exquisite detail.' 
The exhibition is accompanied by an excellent publication: Edward Burne-Jones, Alison Smith, ed., Tate Publishing, 2018. For more details, visit the museum's website www.tate.org.uk.