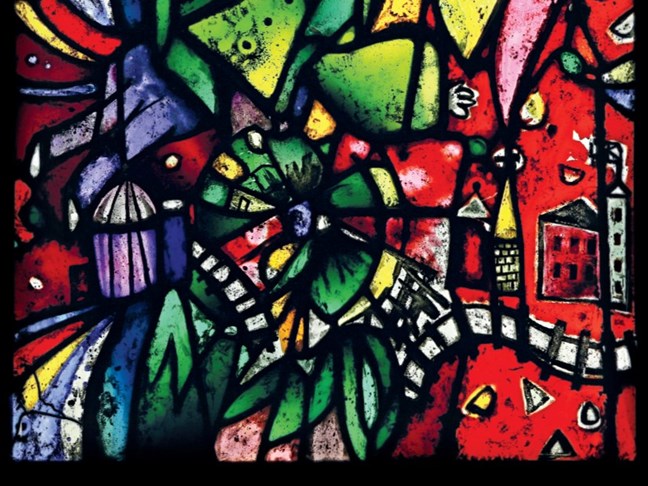 The development of Keith New as a leading modernist innovator in stained glass design and technique is detailed in the first section of this book. The second half provides a catalogue raisonné; for some projects preliminary drawings are illustrated, as are all the finished windows themselves.
Keith New, with Geoffrey Clarke, studied stained glass at the RCA under Lawrence Lee: 'light passing through colour, rather than … refracted from a painted surface [offered] a whole host of new possibilities; an added attraction was that you might be able to earn your living …'. Basil Spence, architect of Coventry Cathedral, chose Lee, Clarke and New for the huge task of filling the cathedral's ten massive 70ft-high nave windows.
New was a pioneer in the use of glass appliqué, where pieces of coloured glass are glued onto clear glass to create a collage of colours. Such windows did not always last, as the quality of the glues was then inadequate, but for churches this was a popular option, because considerably cheaper. The stunning appliqué windows commissioned for the Commonwealth Institute were relocated in 2013 to the Design Museum's shop in Kensington.
When the demand for ecclesiastical stained glass faded away in the late 60s, New turned mostly to painting. He is not well known today, but this book should restore Keith New to his proper place in the story of stained glass achievement in the 20th century. The larger format is a benefit, not too big to hold easily but large enough to do justice to its excellent illustrations. A useful map shows where New's glass survives today.
Keith New: British Modernist in Stained Glass
Diana Coulter and Robert Smith, Sansom & Company, 2018, £25 pb
Condensed from a review by Nicola Park in DAS Newsletter No. 114