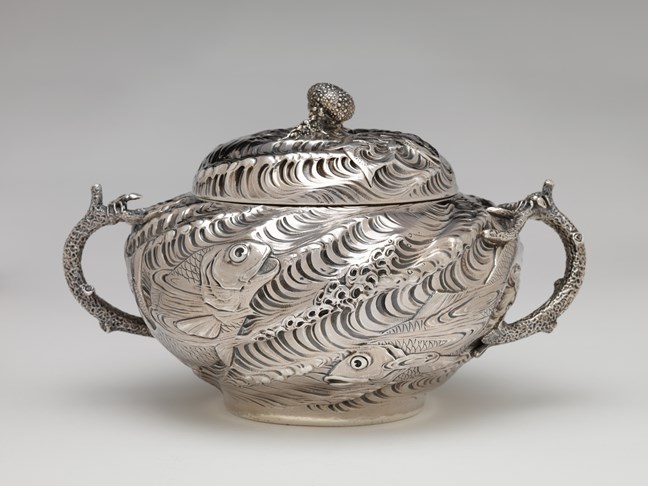 Image:Tureen, 1884, Gorham Manufacturing Company. © RISD Museum
Gorham silver: Designing Brilliance 1850-1970 highlights the legacy of what was the largest silver company in the world. Home to the largest collection of Gorham, the RISD Museum presents exceptional silver and mixed-metal wares, reflecting the industry, artistry, innovation, and technology of the manufactory for 120 years.
Coupling art and industry, the Gorham Manufacturing Company put uniquely American design on the international stage. Creating everything from commissioned presentation pieces to show-stoppers for the dining room, Gorham responded to the era's desire to celebrate, feast, socialize and simply enjoy the everyday in style.
This show, at the Rhode Island School of Design (RISD) Museum, draws on the local story of the company, and features two projects generated from a nine-month community-centred planning process. The first is a section devoted to techniques and processes: the Gorham Workbench will highlight Gorham tools and objects that are still in use by community members, supplemented by a new video combining historic films with footage of contemporary metalsmiths. The second is an audio program using firsthand accounts and immersive soundscapes to highlight perspectives that are often overlooked, but are crucial to the understanding of the company and its products.
The exhibition continues until 1 December, and will then travel to the Cincinatti Art Museum and the Mint Museum in North Carolina. For more details, visit the RISD Museum website  https://risdmuseum.org.