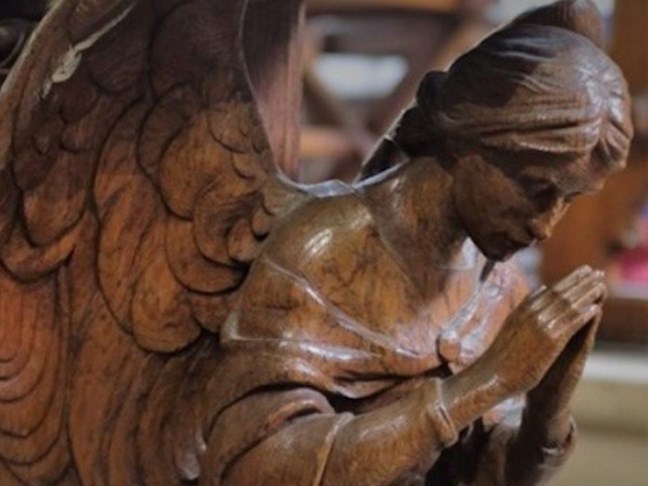 Helen Wilson's meticulous study of Violet Pinwill and her sisters' woodcarving business in Plymouth made me want to dash down to the West Country to see the many church schemes featured in this beautifully illustrated book.
­The story of Violet and her sisters Mary and Ethel reveals a professional company respected by clerics and architects alike, that ran successfully from the 1890s to the 1950s, working in over 160 churches, mostly in Devon and Cornwall. Violet Pinwill, the sole proprietor from 1908, died in 1957 aged 71 – three days before her death she had been at her bench, carving.
Daughters of the vicar of Ermington, Devon, it was their mother who engaged training in woodcarving under the eye of the restorer of Ermington church, Arts & Crafts architect E.H. Sedding. Wilson shows how his support assisted the sisters as they established the carefully gender-neutral Rashleigh, Pinwill & Co., and what commitment and talent the Pinwills brought to their career.
­The personal lives of the women are woven through the story of their work, with Mary, the initial driver, marrying, and Ethel departing for pastures new, leaving Violet to dedicate her life to the company. Wilson takes us in detail through their key projects, such as the idiosyncratic masterwork at Crantock, Cornwall, where Sedding's naturalistic designs for the bench ends in particular show how rapidly the young women became virtuoso carvers. The firm worked alongside some of the leading church architects and designers of the day, but also undertook its own designs.
Like most practitioners at that time, Pinwill's benefited from the memorial business at the end of the First World War, but they survived well past the end of the Second. Violet was by now struggling to keep up with current trends. Yet there was new work,  along with repainting and reuse.
Wilson ends with a section on the workshop, offering valuable insight into the company processes. She shows the importance, skill and tenacity of the Pinwill sisters, particularly Violet, restoring their reputation as one of the foremost ecclesiastical woodcarvers of the South West.
The Remarkable Pinwill Sisters: From Lady Woodcarvers to Professionals
Helen Wilson, Willow Productions, 2021, £25.00 (+£4.00 UK p&p) pb (Available via the website www.pinwillsisters.org.uk)
Condensed from a review by Kirsty Hartsiotis in DAS Newsletter No. 123