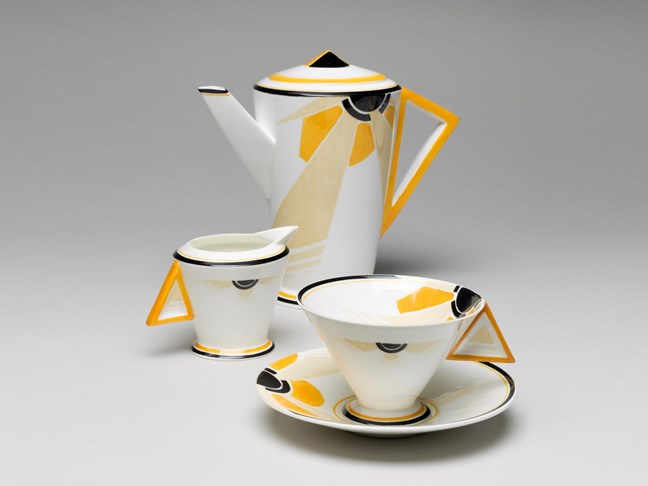 Image: Selected pieces of the 'Vogue' coffee set in 'Sunray' pattern.
An Acquisition Grant from the DAS contributed to the Fitzwilliam Museum, University of Cambridge's purchase of a partial coffee set by the Shelley Potteries, Staffordshire. This iconic 'Deco' service (1930-33) in the 'Vogue' shape and 'Sunray' pattern comprises: coffee pot and lid, sugar bowl, creamer, two cups, two saucers, two side plates and one larger 'cake' plate. All are bone china, printed in fawn and painted in enamel colours.
Shelley Potteries are best-known for their delicate and adventurous bone china tea and coffee wares of the 1920s and 1930s. This pattern was designed by Shelley Art Director, Eric Slater, who had studied under Gordon Forsyth and was an advocate of improvement in industrial design. The geometric shape, matched with a bold dynamic pattern was one of their most successful ranges, and is now highly collectible.
The Fitzwilliam Museum has a world-class collection of ceramics, and is actively seeking to improve its 20th century holdings, especially those of industrially produced ceramics from the first half of the century. This is the first bone china made by Shelley Potteries to enter the permanent collection, and is one of only a few high-quality bone china wares from the 1920s-30s in the museum.
The set will soon be displayed in the museum in a case of new acquisitions, before moving to a more permanent home in the Lower Marlay Gallery. It will also be included in the museum's freely available online Collections Explorer and will be made available for research and teaching purposes.