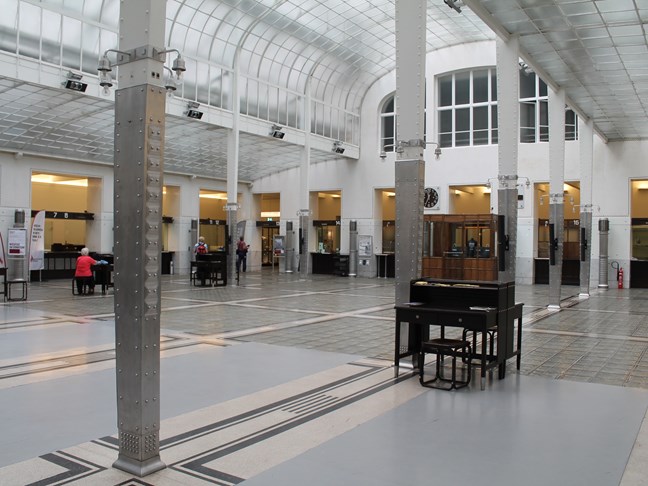 Image: Otto Wagner's Postal Savings Bank, 1904-12
Vienna is always a city worth visiting, but during 2018 there are several exhibitions that might be an additional draw for members of the Decorative Arts Society. These include two shows at the MAK (Austrian Museum of Applied Arts/Contemporary Art):
Post-Otto Wagner: From The Postal Savings Bank To Post-Modernism (30 May - 30 September 2018)
The exhibition presents Otto Wagner as the 'father of Modernism', looking as much at the interactions between Wagner and other protagonists of early Modernism as it does Wagner's influence on contemporaries, pupils and subsequent generations. Starting with Wagner's most important works, the exhibition presents themed areas in which his lasting impact on the architecture of Modernism and Post-Modernism can be vividly traced.
Koloman Moser. Universal Artist Between Gustav Klimt And Josef Hoffmann (December 19, 2018 – April 22, 2019)
The MAK now owns the Wiener Werkstätte archives, built up by the community established by Koloman Moser (1868–1918), Josef Hoffmann and Fritz Waerndorfer in 1903. The aim of this internationally respected group was to bring art into all areas of human existence. Moser, who worked as a painter, graphic artist and craftsman for Wiener Werkstätte until 1907, also taught at the Wiener Kunstgewerbeschule between 1899 and 1918. This exhibition highlights his extensive output.
 For a fuller listing of exhibitions in Vienna this year, see: https://www.wien.info/en/sightseeing/vienna-2018/vienna-2018-exhibitions