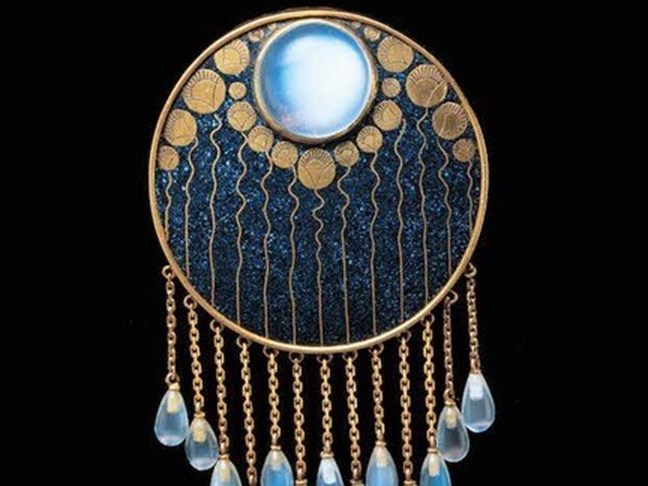 Sonya and David Newell-Smith ran the Tadema Gallery together for 41 years, from 1978 until David's death in 2019. This handsome publication, co-authored by Sonya and the jewellery curator and historian Beatriz Chadour-Sampson, celebrates their remarkable joint achievement.
The pair met in 1963 and married soon after. David was already an accomplished photojournalist and Sonya soon developed her own talent for photography. Both had a concurrent interest in decorative arts, however, and after selling from a stall at Camden Market, they seized the opportunity to take over premises in Camden Passage in the late 1970s. They initially sold ceramics, furniture and British 20th-century paintings alongside a handful of jewels, but their passion for jewellery gradually became overwhelming. They built a reputation as one of London's most renowned specialist dealers in Arts & Crafts, Art Nouveau and Art Deco jewellery.
This sumptuous volume, full of striking photographs taken by David and retouched by Sonya, catalogues over 600 glamorous jewels which passed through their hands. Chapters include jewellery inspired by the natural world, the human figure, and faith, mythology and symbolism, before a final section on art movements and design styles. Each piece is indexed, with marks where they exist.
A series of artist biographies follows. The volume concludes with tributes to the Gallery and its owners, by collectors, curators, scholars and jewellery-lovers. It is a valuable work of reference, which commemorates the lasting legacy of an extraordinary couple and their enduring belief in, and enthusiasm for, jewellery as art.
Tadema Gallery London: Jewellery from the 1860s to 1960s
Beatriz Chadour-Sampson & Sonya Newell-Smith, Arnoldsche Art Publishers, 2021, £75 hb
Condensed from a review by Frances Parton in DAS Newsletter No. 124