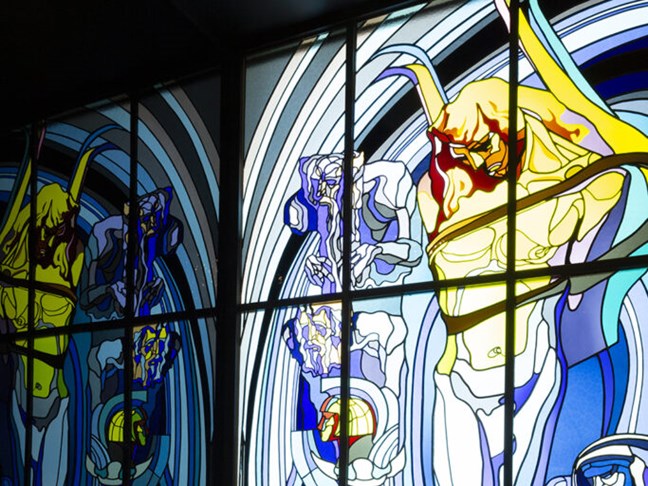 Image: Apollo: Copernicus's Solar System. After Stanisław Wyspiański's stained glass (1905) for Medical Society, Kraków. Contemporary recreation by artist and master-craftsman Piotr Ostrowski (2017); Courtesy Stained Glass Workshop and Museum
Young Poland: An Arts and Crafts Movement (1890 – 1918) is the first major exhibition to explore the decorative arts and architecture of Young Poland, an extraordinary cultural movement that flourished in response to Poland's invasion and occupation by foreign powers. It reveals strong stylistic and philosophical affinities with the work of William Morris and John Ruskin.
Originating in Kraków and the nearby village of Zakopane at the foot of the Tatra Mountains, Young Poland sought inspiration in local folk traditions, wildlife and craftsmanship while seeing no distinction between the fine and applied arts. An early proponent was Stanisław Wyspiański, a polymath whose prolific output covered decorative patterns, stage sets, textiles, furniture, stained glass, book arts and interior decoration. The Zakopane Style of architecture and interiors is represented in the show by many figures, one of the last being Karol Kłosowski, whose intricate paper cuttings also inspired lace designs. Watercolour paintings and illustrations by playwright and poet Maria Pawlikowska-Jasnorzewska comprise another fascinating section.
From furniture to Christmas decorations and metalwork, textiles to delicate paper cuttings and illustrations, this landmark survey spans five galleries. It brings together over 150 works, most of which have never travelled outside of Poland. The exhibition examines the ideas that propelled the Young Poland movement and introduces the artists, designers and craftspeople whose decorative schemes and objects came to define it.
The exhibition continues until 31 January 2022; more details are available on the William Morris Gallery website https://www.wmgallery.org.uk/ and the project website Exhibition ⋆ Young Poland (youngpolandartsandcrafts.org.uk)