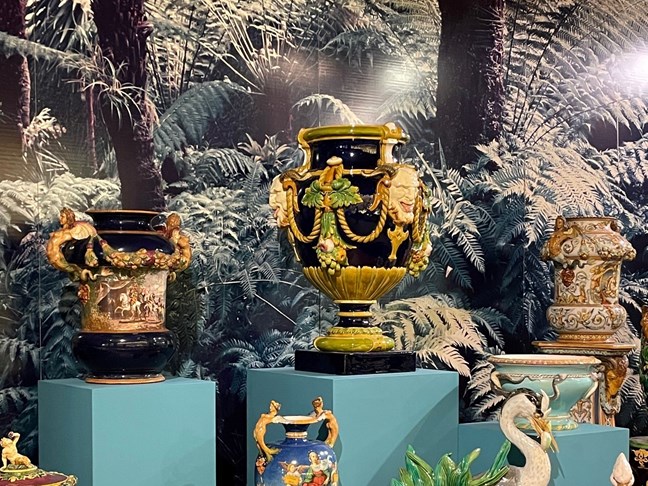 Image: A current majolica display at the Potteries Museum & Art Gallery, Stoke-on-Trent
Proposed budget cuts in Stoke-on-Trent threaten the wellbeing of the Potteries Museum & Art Gallery and the Gladstone Pottery Museum. Planned job losses and museum closures will have a huge impact, according to Martin Levy, who is Chair of the Decorative Arts Society and a Trustee of the Bard Graduate Center, New York.
He has outlined his concerns directly to the Stoke Council, in an open letter to the DAS membership and in a letter to the Financial Times published on 9th February. These reflect the views of local people who feel that their proud industrial heritage risks being diminished, as well as the fears of museum professionals from the United Kingdom and other countries.
An immediate risk is to the internationally acclaimed exhibition Majolica Mania: Transatlantic Pottery in England and the United States 1850-1915. Stoke-on-Trent played a key role in the seven-year development of the exhibition and its curators contributed scholarly essays to the award-winning catalogue. Unless Bard Graduate Center (where the exhibition was organised) receives proper assurances and/or the staffing cuts are reduced, Majolica Mania will not come to the Potteries Museum.
Bringing in a new 'curator of contemporary collecting (ceramics)' is an inadequate replacement for the museums' internationally renowned curators and, moreover, one that ignores the significant historic collections. Local residents face lost opportunities to walk through history with their families as well as engaging with individual objects. And Stoke-on-Trent will suffer lost revenue when visitors no longer spend money to eat, stay, shop in the area, a significant consideration since these plans are driven by understandable financial pressures.
The consultation period ends on 14th February; input may be provided by email to: budgetconsultation@stoke.gov.uk