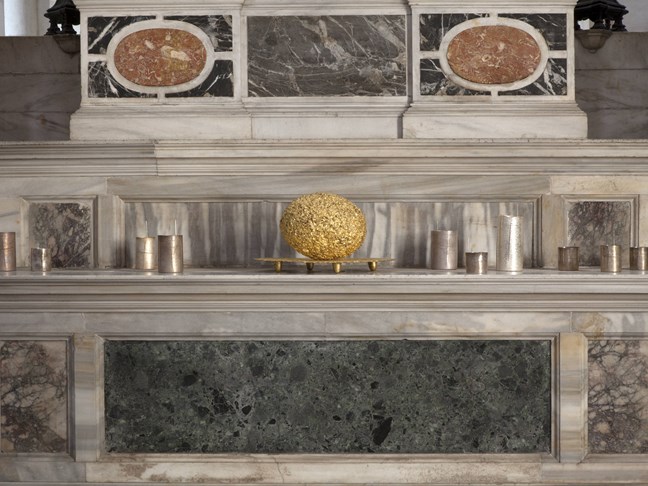 Image: Vessels by Giampaolo Babetto. Photo by G. Chemello
The island of San Giorgio with its church designed by Andrea Palladio has been a 'must' for art lovers for centuries, but particularly in the last 10 years or so with two fascinating art venues. One is the church itself, where Segno e Luce (Sign and Light) by Giampaolo Babetto is the latest exhibition by an international contemporary artist invited by the church's Benedictine community. The other is Le Stanza del Vetro with its excellent programme of glass exhibitions, currently showing Tapio Wirrkala at Venini and Toni Zuccheri at Venini.
Babetto, (b. 1947) a renowned jeweller and mainstay of the influential group known as the Paduan School, has had a marked impact on the avant-garde goldsmiths' scene since the late 1960s. This exhibition includes examples of his early jewellery but also recent larger works of sculpture in different materials such as cast glass with its amazing play of light and bronze castings of tree branches placed on altars in the church and in the choir behind the main altar. Progressing through the church one reaches the sacristy filled with cases of jewellery and raised vessels filling the surfaces of the built-in cupboards and floor.
Babetto's mastery of gold is evident in his jewellery as is his love of geometry including the cross which in this setting invites the viewer to reflect on spirituality in a focused way. Sometimes the geometry is broken down into modular parts and elicits movement through complex hinging. Colour is introduced through pigments, enamel, niello-based techniques, plastic and most recently glass. Each piece is about the internal relationship and exploration of material, colour and form and so seems very personal to the artist. This is particularly true in the surprisingly complex surfaces of the vessels.
The exhibition, a testament to the variety and vision of the art of Giampaolo Babetto,  continues at the Church of San Gorgio Maggiore until 3 April 2022. Tapio Wirrkala and Toni Zuccheri at Venini are on view at Le Stanza del Vetro until 13 March 2022; https://lestanzedelvetro.org/en/