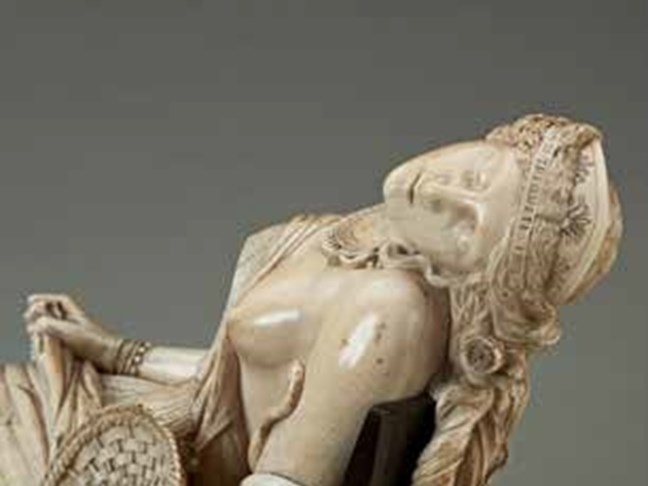 Image: Detail of The Death of Cleopatra, 1859, ivory and bronze sculpture by Henri de Triqueti; Courtesy of Dominic Brown
The DAS has provided a grant of £3000 to support the V&A's acquisition of an export-stopped ivory and bronze sculpture, The Death of Cleopatra. French sculptor Henri de Triqueti (1803–74) was one of the foremost sculptors of the 19th century, who turned to England in search of new patrons after the revolution of 1848. His greatest commission was the decorative scheme of the Albert Memorial Chapel at Windsor Castle (1864-74).
The Death of Cleopatra, which was made for the British market, epitomises cross-Channel artistic relationships and the Victorian taste for eclecticism, sentimentality and work in ivory. The V&A holds the most significant group of works by Triqueti in a British public collection and is the foremost collection of ivories in the United Kingdom. The DAS pledged support very early in the campaign, contributing to the success of the appeal for donations from other sources.
The work will be on permanent display in the Gilbert Bayes Gallery at the V&A in London alongside other outstanding examples of ivory carving and mixed media pieces. The gallery is dedicated to the materials and techniques of sculpture.