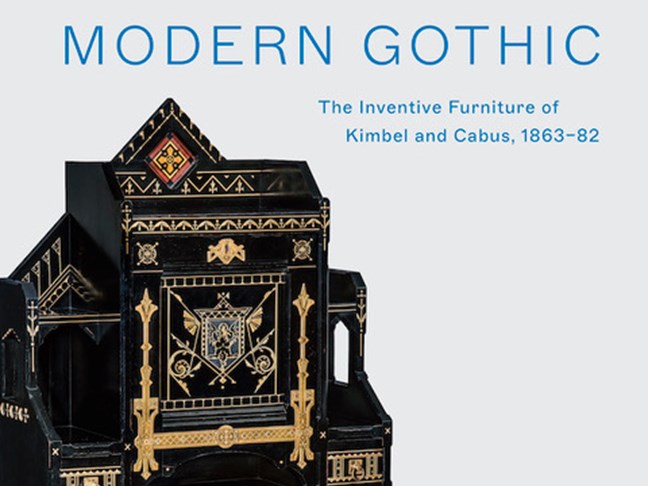 This beautifully produced volume is the catalogue of a pioneering exhibition at the Brooklyn Museum (2 July 2021–13 February 2022). Planned for many years by the late Barry Harwood, the project was brought to fruition by Barbara Veith and Medill Higgins Harvey, with the ongoing support of Deedee and Barrie Wigmore. The exhibition and publication bring together a range of Modern Gothic furniture by the New York cabinetmaker Kimbel & Cabus.
As with so many New York makers active during the second half of the 19th century, both German-born Anton Kimbel (1822–95) and French-born Joseph Cabus (1824–98) were of European descent. Max Donnelly's chapter introduces the English sources that informed the style promoted by Kimbel & Cabus. Notable are Bruce Talbert, Gothic Forms (1867–8) and Charles Lock Eastlake, Hints on Household Taste (1868). The firm also made use of plates in Christopher Dresser's Studies in Design (1874–6). As important as the English sources were, equally noteworthy were German designs, particularly those of Edwin Opler, discussed in a significant chapter by Melitta Jonas.
In the central chapter Veith and Higgins Harvey chart the evolution of the firm, through to the ending of the partnership in 1882. The firm's apotheosis was without doubt its widely publicised participation at the 1876 Philadelphia Centennial Exhibition. In addition to highlighting the existence of the Cooper-Hewitt album of photographs recording the firm's production, 'Commissions and Clientele' provides several illustrations showing fashionable interiors including Kimbel & Cabus furniture. The catalogue section represents the firm's distinctive production, ranging from simple 'Modern Gothic' side chairs to grand ebonised, metal-mounted and tile-embellished cabinets.
The gothic furniture of Kimbel & Cabus is the product of an ambitious and successful firm, targeting customers who wanted to furnish fashionably. This volume is a welcome and valuable addition to the literature on 19th-century design and manufacture.
Modern Gothic: The Inventive Furniture of Kimbel and Cabus, 1868–82
Barbara Veith & Medill Higgins Harvey (eds), Brooklyn Museum & Hirmer Publishers, 2021, £39.95 hb
Condensed from a review by Martin Levy in DAS Newsletter No. 124