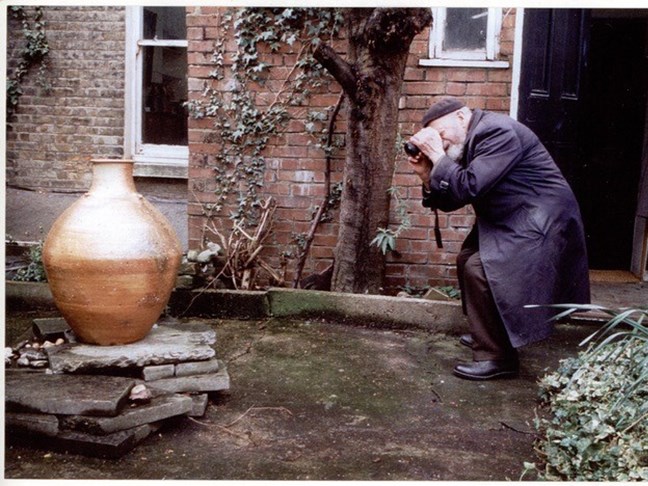 Image: Ismay photographing a pot in the 1990s; Courtesy the estate of Tony Hill.
W. A. Ismay (1910-2001) was a prolific collector of British studio ceramics. At his death his collection of over 3600 works by over 500 potters and its associated archive was left to York Art Gallery, becoming a foundation piece of the Centre of Ceramic Art (CoCA). This exhibition explores the story of Ismay's collection and his approach to collecting, display and legacy.
His first pot, purchased in 1955, was made by Barbara Cass who worked at that time in York. Ismay's first intentions had been to collect Yorkshire pots, but after a small inheritance from his mother in 1956 his ambitions expanded to cover artists working across the UK. He was one of the few collectors interested in Hans Coper's work in the 1950s and 1960s and the show includes monumental examples.
Lucie Rie was a friend; she is another potter highlighted, along with some of their correspondence. Ismay clearly had a great eye and acquired early works by Edmund de Waal, Magdalene Odundo, Elizabeth Fritsch and Gordon Baldwin. He admired Michael Cardew greatly, obtaining 52 of his works.
The viewer experiences the ceramics as individual works of art, displayed as in Ismay's small terrace house on the modular wooden shelves that he designed, which were inspired by the interior of Rie's workshop in London. The insightful videos about Ismay by fellow collectors, curators and potters are a useful adjunct.
The exhibition continues until April 2023, included in free gallery admission; for more details visit the website.