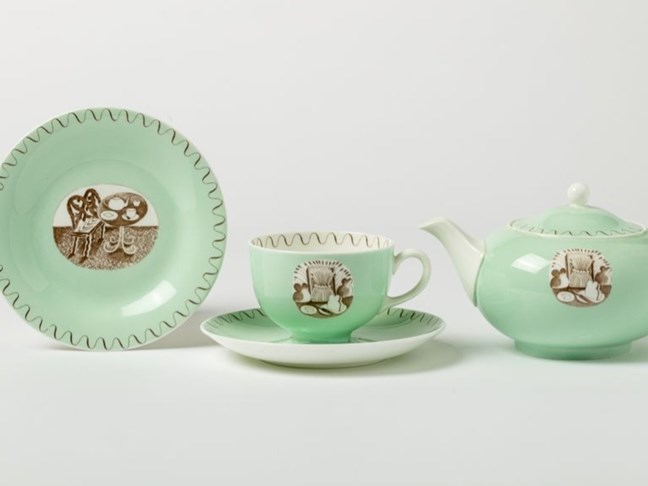 Image: Afternoon Tea, 'Leigh' bone china, 1937, designed by Eric Ravilious for Josiah Wedgwood & Sons. Photo by John Hammond © Hampshire Cultural Trust ® Fiskars
An exhibition at The Arc, Winchester puts the spotlight on Eric Ravilious, showcasing wood engravings, watercolours, books, ceramics and lithographs. The inclusion of unfinished works, studies and designs enables visitors to explore the crossover between fine art and design work, the evolution of his mark-making and use of colour.
An exciting selection of the artist's designs for Wedgwood are on display, including pieces from the Alphabet and Garden sets, alongside rarities such as the Coronation Golden Persephone design and two versions of Afternoon Tea.
Partnering with 15 lenders from across the UK, this specially curated exhibition shows Eric Ravilious' love for the simple pleasures of everyday life (a mug of strong tea, a train ride). He made everyday things seem extraordinary, whether this was in the design he made to decorate an eggcup or in his marvellous watercolours.
The exhibition continues until 15 May 2022; for more details visit the website https://www.arcwinchester.org.uk/event/extraordinary-everyday-eric-ravilious