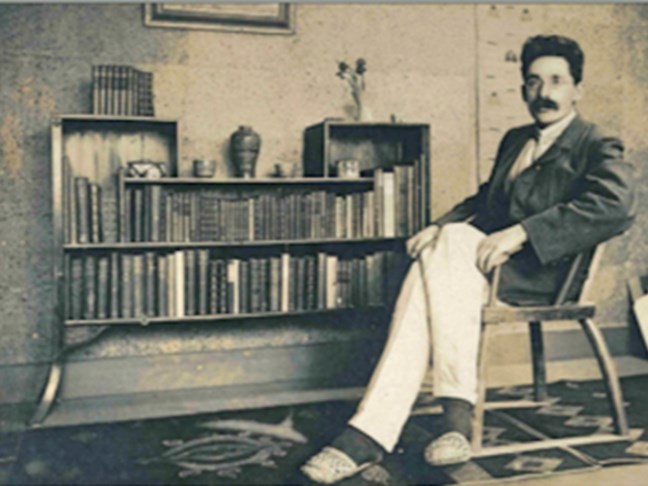 This book looks afresh at the archive collections associated with Bernard Leach and his personal collection of pots, as well as new research about his time in Japan and the collecting of his friend Shoji Hamada. There is an inspiring introduction by the potter Dame Magdalene Odundo, who sees Leach's efforts to straddle cultures and art forms as providing a context for her own work.
Simon Olding discusses Leach's own collection. Not originally intended to be public, it was only in 1979 that some of it was given to the Craft Study Centre. Olding describes Leach's complex relationship with these pots, some given by friends, others referencing ceramic history and his own beliefs. He saw it as a working collection, used to illustrate his philosophy and that of the pottery.
In contrast, Hamada was from early days a very keen collector of a broad range of objects, often by unknown craftsmen, his collecting both inspiring his work and intended as public. Over 2000 objects were given to the museum he founded in Mashiko, which opened in 1977.
Olding's second essay looks at the newly discovered Alan Bell archive recently acquired by the Crafts Study Centre. It is fascinating to see the oil paintings made in Japan, which reveal Leach's struggle with the medium, in contrast to his etchings (shown here with linked sketches), which came much more naturally. The archive also includes photographs and memorabilia.
The book's final chapter by Sadahiro Suzuki discusses Leach's stay in Japan in 1934–5. This was a whirlwind of activity, with ceramics made at ten different kilns, five major exhibitions and spare moments spent drawing. Despite the activity the visit also provided an important period of reflection which was to guide Leach's future steps.
The book is a fascinating read, adding to our knowledge of Leach, and revealing how contributions from East and West, can, as Leach might have felt himself, enhance understanding.
Bernard Leach: Discovered Archives
Simon Olding (ed.), Crafts Study Centre, 2020, £25 pb
Condensed from a review by Helen Brown in DAS Newsletter No. 124