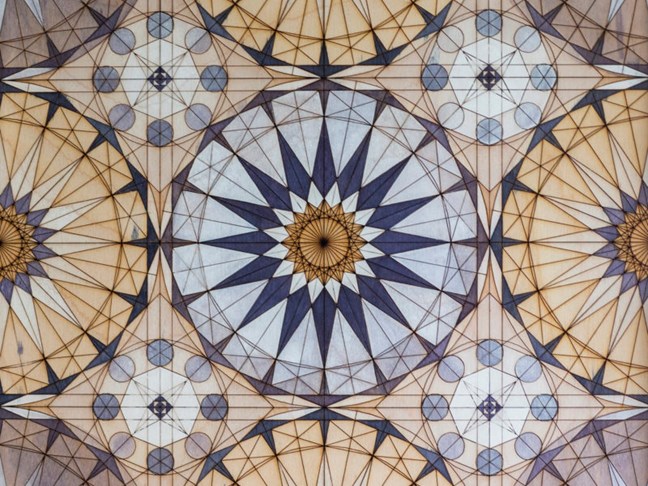 Image: Driftwood 05, 2019, ink, gouache and water on laser-etched wood by Sara Choudhrey. Photo by Will Noor/ Cambridge Islamic Art. ©William Morris Society
The William Morris Society's new exhibition explores the influence of Islamic patterns on British Arts and Crafts, highlighting themes of nature, locality and cultural interactions. It features original work by researcher and artist Dr Sara Choudhrey alongside works on paper from the society's collection and objects from The Emery Walker Trust collection, thus bringing together three different, yet intersecting expressions of Islamic art.
The ordered yet natural patterns of Islamic design are known to have inspired Morris, and he wrote of the stylistic perfection achieved by their craftsmen: `To us pattern designers Persia has become a holy land.' Emery Walker was a close adviser of Morris, particularly in the private press movement such as the Kelmscott Press, and their families were friends and neighbours. The Walkers greatly admired Islamic art, collecting a number of pieces on their travels in the late 19th and early 20th centuries.
Choudhrey uses a variety of techniques and materials, playing with the effects of light and shadow, textures and form. Digital technologies are merged with traditional drafting methods in an interdisciplinary approach. Items on show range from tile, embroidery and room décor designs by Morris, through ceramics and metalwork including a miniature Qur'an locket collected by Walker and drawings and multimedia works by Choudhrey.
The exhibition continues until 4 January, 2021. For more details, including a programme of online events, visit the websites https://williammorrissociety.org/ and https://www.emerywalker.org.uk/