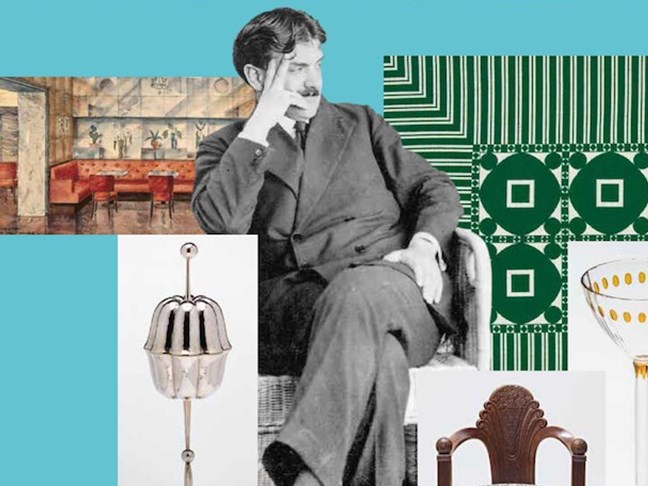 This book was produced to accompany an exhibition of the same title at the MAK in Vienna. Born in 1880 the son of a cabinetmaker, Prutscher gained practical training in wood before entering the School of Arts & Crafts in Vienna. Having profited there from the commercial connections his mentors such as Josef Hoffmann were making, he moved into designing furniture, textiles, carpets, jewellery and particularly glassware.
Prutscher began designing for the Wiener Werkstätte in 1907, and in 1909 he took up a teaching post at the School of Arts & Crafts. Architecturally Prutscher was responsible for about 50 buildings and some 170 interiors and 300 interior designs. Exhibition design and arrangement also became a particular forte. His career continued successfully until forced into retirement by the Nazis – his wife had Jewish blood. His activity resumed briefly after the war before his 1949 death in Vienna.
The book begins with an overview of Prutscher's career and contributions to Viennese Modernism. It is followed by two fairly dense chapters on his glassware (for manufacturers including Lobmeyr and Loetz) and metalwork. Next comes an account of MAK's holdings of c.1200 Prutscher drawings, designs etc. There is a celebration of Hermi Schedlmayr, a collector who devoted her life to researching Prutscher's work, as well as memories from Prutscher's granddaughter, info on the family archive and a biographical timeline.
Prutscher has been somewhat overshadowed, despite the versatility, productivity and connectedness of his career. The volume is valuable, though it is not the easiest reading, with German and English texts running in parallel. There is little connection between the illustrations and text in the layout. Combined with the lack of an index this damages the usefulness of the book.
Otto Prutscher: Universal Designer of Viennese Modernism
Christoph Thun-Hohenstein / Rainald Franz (eds), MAK Vienna/Arnoldsche, 2019, £38 pb  
Condensed from a review by Perilla Kinchin in DAS Newsletter No. 119