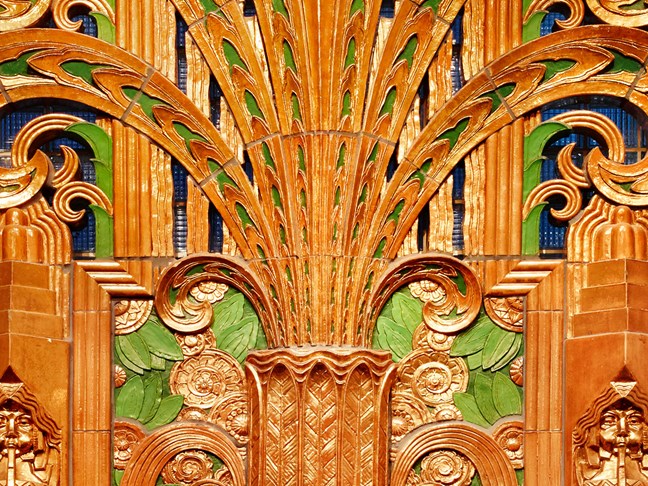 Image: Detail from Norris Theatre window grille, Norristown, Pennsylvania, 1929, Gold and green gloss glazed terracotta exterior facade composed of approximately two hundred tiles. Courtesy of The Wolfsonian-FIU, Miami Beach, FL.
The Wolfsonian-FIU is a renowned museum that explores the inventive and provocative character of the modern world. Through objects and design, it reveals how the past influences the present and shapes the future. It has recently reopened with Covid-19 precautions in place, but for those who are not in Florida it also provides numerous opportunities for engagement online.
Founded by American businessman, collector and philanthropist Mitchell `Micky' Wolfson Jr, Starting with The Rime of the Ancient Mariner, which Wolfson acquired at the age of 12, the collection now has over 200,000 objects from many donors. It includes books, ephemera, and archives; works on paper (posters, prints, design drawings); fine art (paintings and sculpture); decorative art (glass, textiles, ceramics, lighting); appliances and beyond. The museum is based in Miami Beach, Florida and has a sister organization, the Wolfsoniana Museum in Genoa, Italy.
`Digital experiences' available at https://wolfsonian.org/whats-on/digital-experiences/ range from `Designing Deco' (video explorations of artworks from the major exhibition `Deco: Luxury to Mass Market'), `Shelf-Aware' with its interactive look at the core collection to a chance to download a Wolfsonian artwork optimized for Zoom virtual backgrounds in `Zoom With Us'.
In addition, the Wolfsonian hosts many free online events focusing on elements and themes. Sign up at https://wolfsonian.org/whats-on/events/ , or visit the YouTube channel at https://www.youtube.com/user/WolfsonianFIU to see past recordings. Memorable recent seminars include `Scottsboro: Impressions in Black and White' and a `Digital Dive' into the process of bringing rare volumes online.
For more details, visit https://wolfsonian.org/