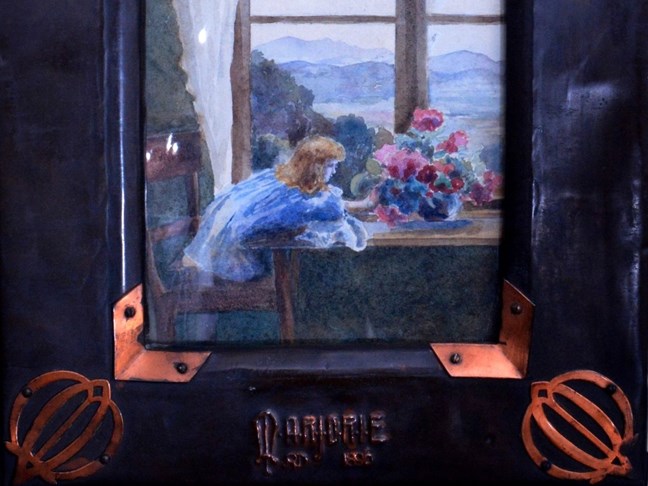 Image: Marjorie, 1896, watercolour in enamel frame, by Lily Day. Courtesy of The Peartree Collection
The DAS is pleased to announce an Acquisitions Grant of £425 to the National Museums of Liverpool for a watercolour set within an Arts and Crafts frame, both by Lily Day (b. 1870). Day was born in Liverpool, studied at Liverpool School of Architecture and Applied Art, and then spent much of her career there as an enamelling/metalwork instructor. In the 1901 census she described herself as `an artist in metalwork'. The subject of the watercolour is two-year old Marjorie Ogle, another Bootle resident, and the frame carries the repoussé title `MARJORIE' and the date `AD 1896.' This acquisition adds to the two enamel plaques from c. 1900 that the museums already own.
The September 2020 Collections Access Grant of £1500 was awarded to Ushaw College, the former Catholic seminary in County Durham, for the conservation of a large, detailed 1858 bird's eye view drawing of the college. It includes buildings by A. W. Pugin who worked extensively on the site and his son E. W Pugin who took over from his father. The drawing, by E. W. Pugin's draftsman H. T. Brewer, is an important record of the Gothic Revival architecture of Ushaw. The church students left in 2011 and since then Ushaw has welcomed and encouraged visitors to experience its lavish Gothic Revival architecture and spectacular collections. Once conserved and framed this important drawing will be on view in the main library.