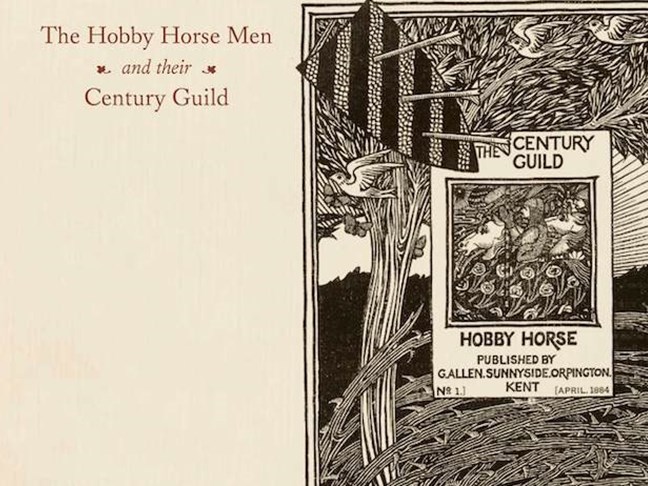 Arthur Heygate Mackmurdo and the Century Guild feature in most books on the Arts & Crafts Movement, but until now there has been no in-depth history of the whole group. Its fame has rested largely on chair and graphic designs, but this book covers its community activism as well as architecture, interior decoration, product and pattern design, and publications. The Century Guild Hobby Horse, despite its irregular appearance and economic failure, had a galvanising effect on contemporary publishing through its eclectic mix of polemical essays, 'decadent' poetry, facsimiles of rare works by William Blake and proto-Symbolist illustrations.
A strength of the Guild, but ultimately its fracturing weakness, was the different interests of the members. Mackmurdo, his precocious young assistant Herbert Horne, and his close friend Selwyn Image formed the core and recruited numerous associates. From its inception in 1882 as a Ruskinian endeavour to bring unity to the arts, it engaged in crusades, described here together with the eventual ending of the partnership with Horne in 1892.
Particular strengths of the book are the focus on art as a central activity in life and on the Hobby Horse, not just as a designed object but as a promoter of ideas. It has a strong narrative and is inevitably not comprehensive, but the absence of William Kellock Brown and of any illustrations from the little-known collection of Colchester and Essex Museum is surprising.
Sadly, Stuart Evans died before publication, but his co-author Jean Liddiard and Lund Humphries have completed the project to coincide with an exhibition at the William Morris Gallery. Evans aimed to rescue Mackmurdo from an unjust early character assassination. He succeeded in this while remaining focused on the innovative nature of the Guild, but all the protagonists were such fascinating characters that they deserve a monograph each.
Arts and Crafts Pioneers: The Hobby Horse Men and their Century Guild
Stuart Evans & Jean Liddiard, Lund Humphries, 2021, £35 hb (Visit www.lundhumphries.com  and use code DASACP20 at checkout for 20% off + free UK postage; valid to 30 June 2021)
Condensed from a review by Annette Carruthers in DAS Newsletter No. 122
`Within The Reach of All: The Century Guild' exhibition is at the William Morris Gallery in London until August 31, 2021. For more details, visit https://wmgallery.org.uk/