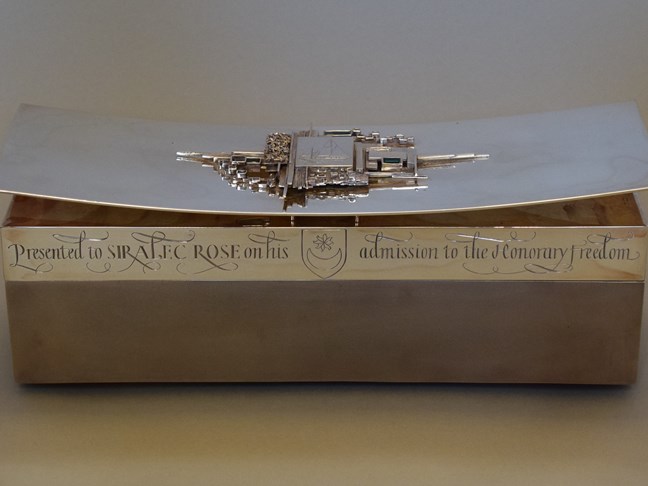 Image: Freedom Casket awarded to Sir Alec Rose, 1968, designed by Jeanne Werge-Hartley.  ©Portsmouth Museum and Art Gallery.
The DAS is delighted to announce two Collections Access Grants. Portsmouth Museum and Art Gallery received a grant of £5000 as a contribution towards a new, alarmed display case for the major exhibition of civic silver planned in May 2022. Portsmouth's collection is one of the most significant in Britain outside London. It comprises 160 pieces with interesting post-1850 examples such as a rosewater dish and ewer by Robert Garrard, London, 1871 and a silver Freedom Casket designed by Jeanne Werge-Hartley and presented to Sir Alec Rose in 1968. The civic silver tells many interesting stories including that of mid-Victorian philanthropy and will be augmented by loans from the Royal Navy Trophy Fund and others. After the exhibition, the case will enable more of the museum's important decorative arts such as examples from the Handley-Read collection to be on view.
Another grant, of £4800, was awarded to the Centre of Ceramic Art (CoCA) at York Art Gallery to support the publication of a book on the pioneering British studio pottery collector, W. A. (Bill) Ismay (1910-2001). Ismay's bequest of his collection of over 3600 pots and archive of over 50,000 items of supporting documentation to York led to the establishment of CoCA as part of the gallery. The publication reassesses Ismay, revealing the educated, dynamic, generous collector behind the trademark beret and magnifying glass. It also sheds light on the institutional and curatorial challenges posed by the acquisition of such a large collection while illuminating the transformative opportunities it offers. The book will be published to coincide with a major exhibition opening in October 2021.