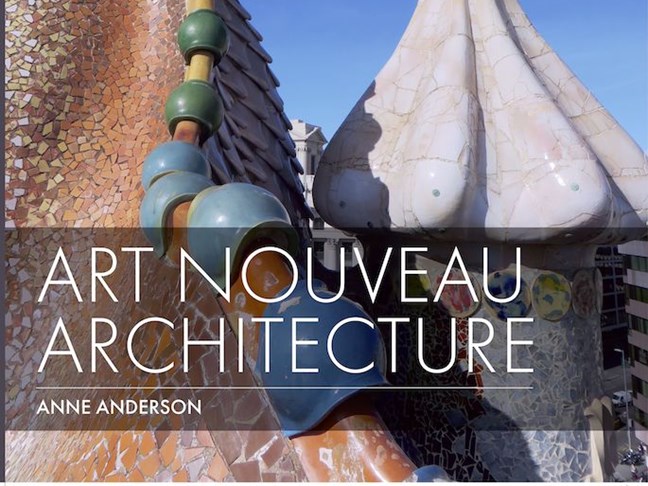 Art Nouveau, or New Art, the extravagant architectural and design style adopted around 1900 by the European nouveaux riches, was always controversial. Although intended to define the modern age, employing new forms, materials and building techniques, it was essentially backward looking – ornate, romantic and nostalgic. It had all but disappeared by 1910.
Anne Anderson conducts a wide-ranging survey of the surviving buildings in major European cities. The book is beautifully illustrated, largely with images taken by the author and her husband, Scott Anderson. Predictably she visits Brussels, Paris, Barcelona and Vienna and adds Darmstadt, Milan and Nancy. She includes Ålesund in Norway and Aveiro in Portugal but not towns such as Subotica in Serbia and Tblisi in Georgia that have yet to be fully explored.
The Gesamtkunstwerk, total work of art (used in aesthetics to embrace the concept of the architect's integration of every element of a building's design), is key to Anderson's analysis, and in her detailed examination of certain buildings. The architects' complete control of detail, from window glass to furniture and from wall coverings to door handles and light fittings, justifies the inclusion of a great swathe of decorative design in addition to 'architecture'. Other chapters examine terminology, the style's use of Symbolism and representational motifs, materials and construction techniques.
Anderson writes fluently and includes many unfamiliar details and anecdotes. The substance of each chapter is well organised but there are a number of minor problems. There is unnecessary duplication, both in the Abstract-like Introduction and Conclusions to each chapter. The images are neither numbered nor linked to the text, and typos mar an otherwise admirable publication.
Art Nouveau Architecture
Anne Anderson, The Crowood Press, 2020, £24 hb; available from www.crowood.com  
Condensed from a review by Stella Beddoe in DAS Newsletter No. 122