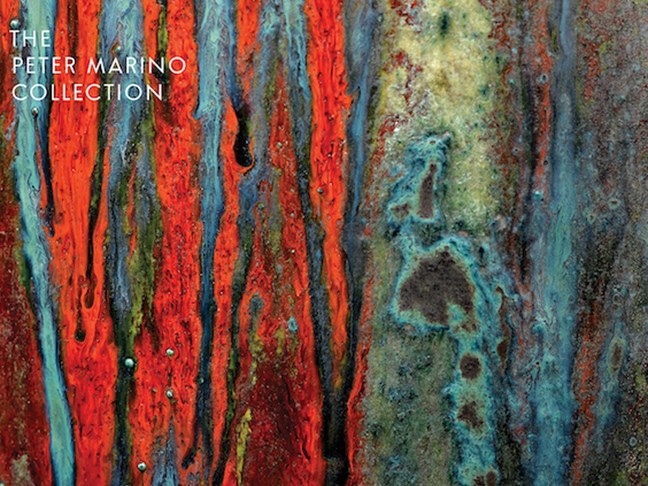 This magnificent, large volume celebrates an innovative French ceramic artist, famous for his glazed stoneware vessels, as well as for his more sculptural production. The publication records the collection of the architect Peter Marino, who describes the glazes on Adrien Dalpayrat's vases as 'modern paintings in and of themselves'.
Etienne Tornier, who published Marino's collection of works by Théodore Deck (2019) in the same format, sketches the life of Dalpayrat (1844–1910). After some 20 years of conventional work decorating porcelain and faience in historicist styles, Dalpayrat shifted towards the increasingly fashionable 'stoneware and abstract forms of decoration', impacted by both Asian and Symbolist influences. In 1889 he moved to Bourg-la-Reine, south of Paris, where he swiftly perfected his characteristic red flambé stoneware.
The significant role of Alphonse Voisin-Delacroix as the designer of the vases and more sculptural works is highlighted. In 1893, Dalpayrat began a fruitful partnership with Adèle Lebros, who exerted considerable energy on promoting the business. During the 1890s Dalpayrat's ceramics were exhibited, for example, at the Grafton Galleries in London, and at Georges Petit and Siegfried Bing's L'Art Nouveau in Paris; work also appeared to acclaim at the Paris Exposition Universelle, 1900.
The outstanding feature of this sumptuous tome is the extraordinary photography that allows the reader to appreciate the tactile quality of the pots and sculptural creations and to absorb the forms and glazes of each piece. The full-page, sometimes double-page, full-bleed details do indeed appear like 'modern paintings', while the detailed shots of particular pieces emphasise the finer details of the designs.
Tornier includes useful thumbnail images of 'The Collection' and the introductory chapters are supported by references that scholars will find useful to pursue. Despite requiring serious shelf space, this is a valuable volume that informs and gives pleasure.
Adrien Dalpayrat
Etienne Tornier, Phaidon, 2020, £200 hb
Condensed from a review by Martin Levy in DAS Newsletter No. 122