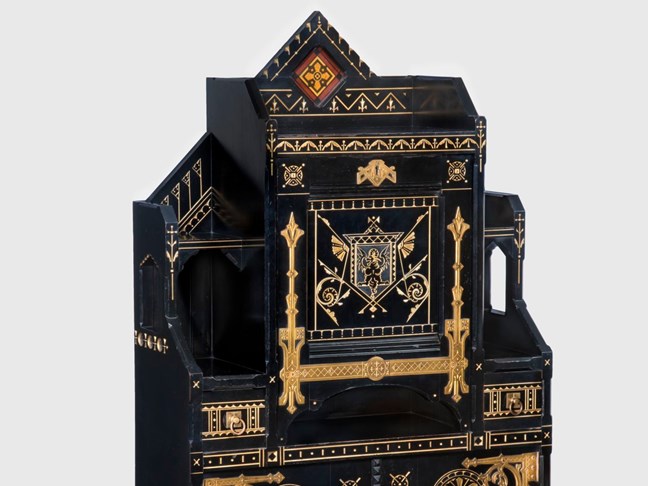 Image: Cabinet-Secretary, circa 1875, painted cherry, gilding, copper, brass, leather, earthenware, designed by Kimbel and Cabus. Brooklyn Museum; Bequest of DeLancey Thorn Grant in memory of her mother, Louise Floyd-Jones Thorn, by exchange, 1991.126. Photo by Gavin Ashworth
Featuring over 60 objects, the exhibition is the first to examine the enterprising New York City design team who pioneered a new take on Modern Gothic furniture and defined a significant aesthetic in the post–Civil War United States. Over the course of a nearly 20-year partnership, immigrant cabinet makers Anton Kimbel (1822–1895) and Joseph Cabus (1824–1898) transformed their business into a leading New York City furniture and decorating firm.
Kimbel and Cabus synthesized British and continental European design sources to produce a wealth of Modern Gothic furniture forms that combined bold, clean lines with rich surface decoration. Unlike some of their competitors who catered only to the elite, Kimbel and Cabus designed their wares at different price points to appeal to a broad range of customers.
The Brooklyn Museum has the largest institutional holdings of furniture made by Kimbel and Cabus, thanks to the late Dr Barry R. Harwood and his keen eye for innovative 19th century furniture, according to guest curator Barbara Veith. Harwood dedicated 30 years as a curator to developing the Museum's Decorative Arts holdings. At the time of his death, he was conducting research for a planned book on the work of Kimbel and Cabus. His legacy is honoured with this exhibition, which includes items from the Brooklyn collection and other lenders together with new research.
Objects displayed in `Modern Gothic: The Inventive Furniture of Kimbel and Cabus, 1863–82', include 40 pieces of furniture as well as digitized period photographs, books, a painting, and ephemera. The exhibition is organized in a series of nine thematic groupings; the final gallery highlights Modern Gothic masterpieces, including monumental desks and dramatic ebonized cabinets.
The exhibition is at the Brooklyn Museum in New York City from July 2, 2021 until February 13, 2022. For more details, visit https://www.brooklynmuseum.org/ .