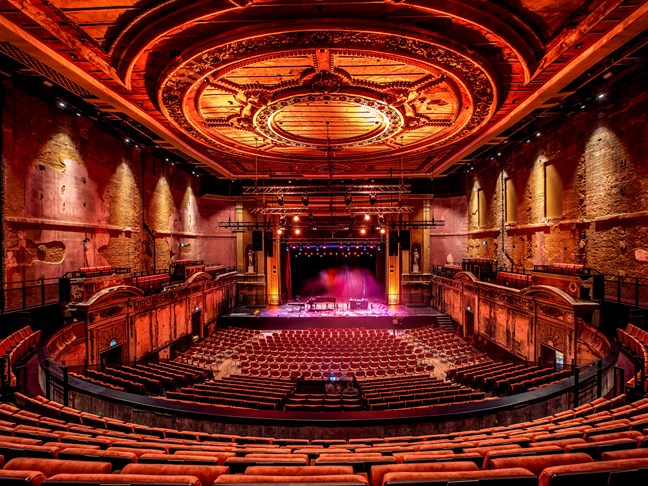 Image: Alexandra Palace Theatre (©Lloyd Winters)
A huge Victorian theatre in north London reopened earlier this month. It is an amazing transformation from when it was visited by the DAS four years ago.
In October 2014, a group of DAS members visited Alexandra Palace, guided by the then Chief Executive Duncan Wilson. Focusing on the east wing, which survived the disastrous fire in the Great Hall in 1980, Duncan ended by showing us the dilapidated theatre, an enormous space originally seating up to 3,000 people, designed by John Johnson in 1875. Our visit also took in the stage area, with its extensive, original machinery.
Latterly, the theatre had been used as a BBC store and workshops for some 80 years. It looked in a sorry state when we visited it, but sufficient decorative plasterwork remained for us to have an inkling of what it had once been like. The proposals for the theatre's restoration seemed a far-off dream then.
Now, after much hard work and fund-raising, with a Heritage Lottery grant of £18.8 million and a further £7 million from Haringey Council towards the £27 million cost, the theatre has been impressively restored – a remarkable achievement. The work was led by the design team architects Fielden Clegg Bradley Studios, and the main contractors were Willmot Dixon.
The theatre now has a full programme of events, available on the Alexandra Palace website www.alexandrapalace.com.
Robin Wyatt