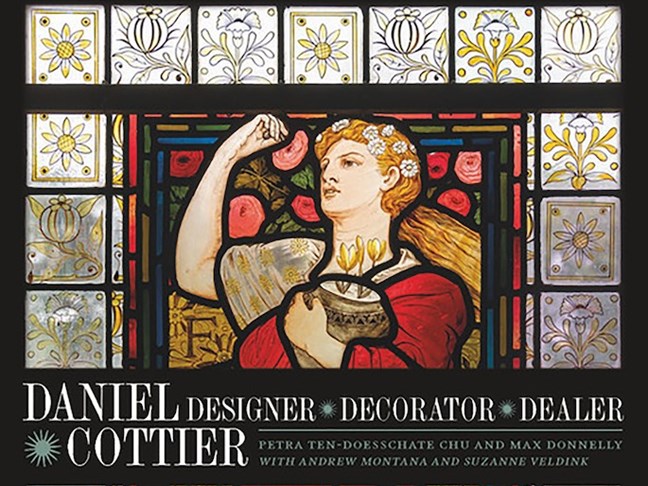 Daniel Cottier (1838–1891) was an artist, designer, decorator and art dealer whose business empire spanned three continents. Cottier and his decorating firms brought art to the public and were key exponents of the Aesthetic Movement, with its focus on beauty and the creation of a 'unified interior'. Despite his success and global reach, Cottier's name was quickly forgotten. This first complete overview of Cottier and his works should help to revive it.
Cottier's art dealing and personal collecting highlight his role as a tastemaker. In New York, he was the first to showcase the works of the Hague School. As the only decorating firm to include an art gallery, Cottier & Co. broke down the barriers between the fine and decorative arts.
Apprenticed as a stained-glass painter in Glasgow and Edinburgh, Cottier's early work in Scotland included painted interiors and stained glass for churches and private residences. His move to London in 1869 saw him set up Cottier & Co, which provided everything required to create the ideal interior as well as dealing in fine art.
This successful business model was exported to New York, Sydney and Melbourne. In each location modifications were made to suit the local market and in Australia, under fellow Glaswegian stained-glass artist and designer John Lamb Lyon (1836–1916), the style was adapted to include new decorative motifs, often incorporating local fauna and flora.
This publication is a fascinating, comprehensive and engaging account of Cottier's life and work. Beautifully illustrated, thanks in large part to grants from the DAS and individual members, it is a fitting testament to a great design thinker.
Daniel Cottier: Designer, Decorator, Dealer
Petra ten-Doesschate Chu & Max Donnelly with Andrew Montana & Suzanne Veldink, Paul Mellon Centre for Studies in British
Art/Yale University Press, 2021, £40 hb (Visit www.yalebooks.co.uk and use code Y2195 for a 25% discount inc. UK p&p; code valid to 31 October 2021)
Condensed from a review by Claire Blakey in DAS Newsletter No. 123