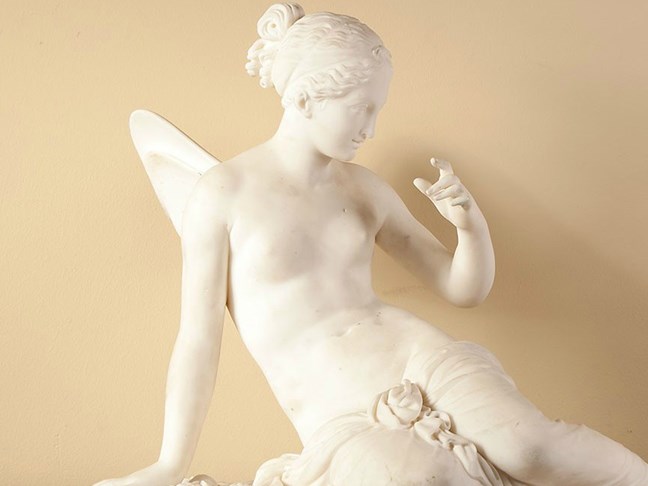 Image: Psyche, Italian marble c. 1850, height 17.5cm
The Milford House Preservation Trust has combined a DAS acquisition grant of £2000 with a substantial grant from the Henry Moore Foundation to purchase three sculptures: a marble of Psyche and a pair of bronze runners by Joseph Uphues (1859-1911).
The trust aims to protect, promote and preserve Milford House, its gardens, parkland and build and natural heritage. The house, built between 1864 and 1915, was designed by its owner Robert McCrum (1827-1915), a self-made industrialist, inventor and benefactor who made his fortune in the linen industry. In the 19th century it was the most technologically advanced house in Ireland. The McCrum family lost its fortune in the Wall Street Crash and the contents of the house were sold in a 4-day auction in 1930, followed by the house itself in 1940.
The Milford House Preservation Trust runs a historic house museum at 3, Victoria Street, Armagh, the last home of Robert McCrum's son William (1865-1932). It contains many family gifts of costumes, furnishings and papers. As well as fighting to preserve Milford House from further destruction and tell its story, the Trust has been actively researching, tracing and where possible acquiring items sold at the 1930 auction, such as these sculptures.
The sculptures will form an important part of the collections on view in the house museum and allow the Trust to expand on its story of Milford House and the role and taste of Robert McCrum.  As there is very little public sculpture on view in Country Armagh, they will also play an important role in the broader artistic milieu of the area.
For more information, visit the website at www.milfordhouse.org.uk