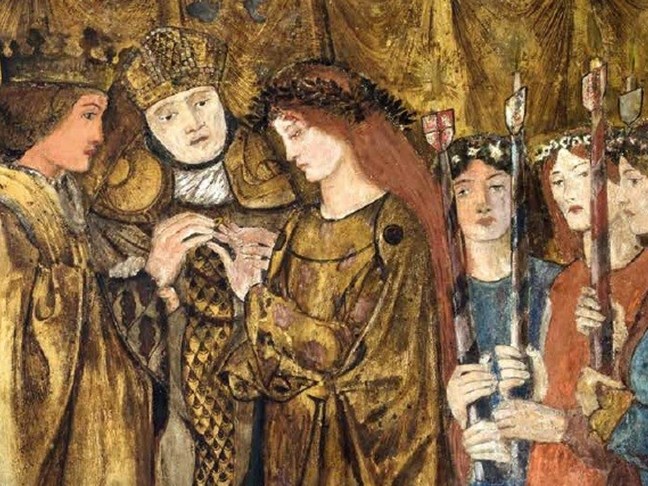 Red House occupies a unique position in the history of William Morris's career and most people will be familiar with the role that the experience of decorating and furnishing the interiors played in the founding of `The Firm'. Webb's complex, quasi-medieval exterior offers plenty of visual treats, but the interiors are much harder to appreciate. After all, Morris and his family left before many of the decorations had even been started, and layers of whitewash have further obscured its original appearance.
What a pleasure it is, therefore, to find Tessa Wild's meticulously researched and extremely readable book shining new light on the ambitions for the interiors. She argues that far from being a set of disparate, incomplete rooms, Red House was conceived as a coherent programme of decoration that celebrated Morris's youthful preoccupations with romantic love, art and friendship. Love is an especially significant theme and underpins the figurative decoration in wall paintings, embroideries, and stained glass.
The historical investigation is enhanced by digital reconstructions of the original decorations in the drawing room and bedroom – informed by paint analysis, contemporary descriptions and Webb's floor-plans – that literally bring the rooms to life. Another useful section stresses the relationship between the garden and the interiors.
Ironically, it was the growing demands of the fledgling Morris, Marshall, Faulkner & Co. that drew Morris's energies away from the decoration of his home, and the strain of the two-hour commute to London influenced his decision to move. It is intriguing to imagine what Red House would have looked like had he remained there. My only criticism of this excellent book is the washed-out appearance of many of the illustrations, which would have looked much better printed on glossy paper. But in every other respect it is a revelation that firmly reinstates Red House as an innovative and imaginative project.
William Morris & his Palace of Art: Architecture, Interiors & Design at Red House
Tessa Wild, Philip Wilson, 2018, £35, hb
Condensed from a review by Joanna Banham in DAS Newsletter No. 115