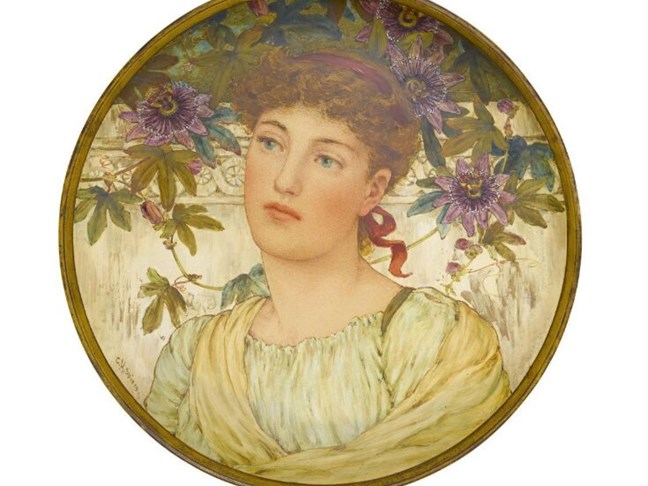 Image: Earthenware charger with portrait of a woman, 1882, painted by Charlotte H. Spiers for Mintons, London, England. © Victoria and Albert Museum
The V&A is currently showcasing the creativity and innovation of British art potteries and their artists in South Kensington, London. `The Artistic Home', an exhibition of items from the Ian and Rita Smythe Collection, includes many fine examples of hand painted and decorated pottery from the late 19th and early 20th centuries.
Beautiful vases, plaques, chargers and dishes abound, with the companies featured ranging from the Della Robbia Pottery and Burmantofts in Northern England to William De Morgan, Minton Art Pottery and Doulton Lambeth in London. Important works by William De Morgan, William Stephen Coleman and Leonard King complement an array of ceramics where women were able to play an active part in the design process and achieve fame and credibility as designers. Notable names at Doulton Lambeth were Mary Capes, who developed a technique for painting in enamel colours on stoneware and Margaret E. Thompson, while Alice Louisa Jones, Alice Rathbone and Routh Bare contributed much at Della Robbia.
Eclectic design themes stem from Aesthetic sensibilities, with motifs such as peacocks, owls, fans and sunflowers. Influences are as diverse as Middle Eastern art, medieval imagery, Italian Renaissance patterns and the natural world. Bright colours and iridescent glazes enhance the pieces, which provide a stunning show.
The free display continues until 25 September 2023. More details are available on the website: https://www.vam.ac.uk/exhibitions/the-artistic-home