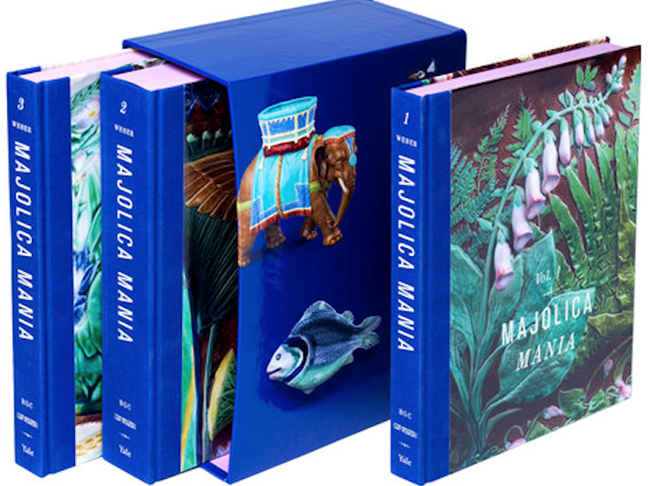 Accompanying an exhibition of the same name, this three-volume publication is a weighty tome with over 1000 pages and 1200 illustrations. More than a dozen authors contribute to an authoritative discussion of the vibrant, highly modelled earthenware that was developed in the mid-19th century and came to be known as majolica.
Volume 1 covers the introduction and development of the new ceramic which was launched at the Great Exhibition of 1851. Its continued success in exhibitions is charted along with discussions of design origins, production challenges and marketing techniques. Most fascinating is an assessment of the rise and fall of majolica's popularity both in the marketplace and with the arbiters of taste.
The second and largest volume examines the major British manufacturers, beginning with Minton and Wedgwood. Illustrations from factory pattern and shape books, together with engravings from contemporary exhibition catalogues, original photographs of displays in exhibitions, and advertising ephemera are used to great effect.
The third volume documents the American majolica industry. It opens with a discussion of the immigration of Staffordshire potters who hoped for better wages and living conditions in the United States. From the late 1870s American factories accepted the challenge of providing ceramics for home consumption. New and expanded histories of major American producers provide the final six chapters.
The collaboration of authors brings depth and scholarship to many more aspects of the subject than previous publications. There is much new information from both sides of the Atlantic and the reader can move backwards and forwards with ease through the excellent texts and images to compare the work of the various potteries.
The Majolica Mania exhibition is at the Potteries Museum & Art Gallery, Stoke-on-Trent from 8 October 2022 – 29 January 2023 https://www.stokemuseums.org.uk/pmag/ and an online companion to the New York exhibition is available at https://exhibitions.bgc.bard.edu/majolicamania/ 
Majolica Mania: Transatlantic Pottery in England and the United States, 1850–1915
Susan Weber, Eleanor Hughes, Catherine Arbuthnott, Jo Briggs, Earl Martin and Laura Microulis (eds), Bard Graduate Center, 2021, $300 hb 
Condensed from a review by Patricia Halfpenny in DAS Newsletter No. 126