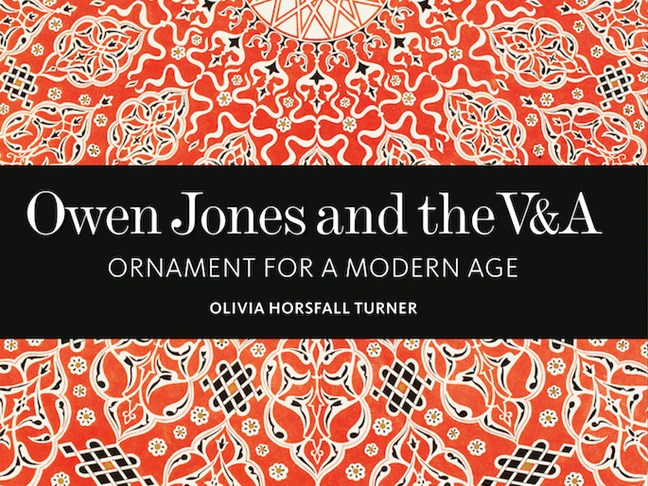 Owen Jones (1809–74) was a Victorian polymath, architect, designer, publisher, decorative artist, critic and theorist, whose influence through The Grammar of Ornament (1856) continues to this day. The loss of his decorations in the first phase of the South Kensington Museum, the demolition of most of his architecture and the survival of only relatively few of his design products and drawings make doing him justice problematic. Two remarkable recent finds proved the key to this publication, exploring the relationship between Jones and the early formation of the Museum; his decorative scheme for the 'Oriental Court' and the preparatory illustrations for his publication Examples of Chinese Ornament (1867) were discovered in a private collection in 2017.
Jones was the son of a successful London furrier. After training as an architect, he made the extended foreign tours which resulted in his famous publications. His companions on these travels provided him with the beginnings of a network of contacts. His sister married the architect James Wild, a key figure in the development of the museum.
The book's introduction sets the scene for Jones's involvement with the Great Exhibition in 1851 and the new museum building. Publication of The Grammar of Ornament (Chapter 1) is followed by the decoration of the Indian, Chinese and Japanese Courts in 1863 and tilework, tracery and stained-glass windows in the Moorish style, all long since obliterated. Chapter 3 concerns the Examples of Chinese Ornament, with the recently discovered designs and the objects from the collections that inspired them. Jones was also influential in steering the museum's purchasing committee in the direction of Islamic art and design.
This book is an addition to the V&A Nineteenth-Century Series, exploring the complex history of the Museum, its collections and purpose – there is every reason for an ambitious programme of its history.
OWEN JONES AND THE V&A: ORNAMENT FOR A MODERN AGE
Olivia Horsfall Turner, Lund Humphries in association with V&A Publishing, 2023, hb £35
Condensed from a review by Charlotte Gere in DAS Newsletter No. 129