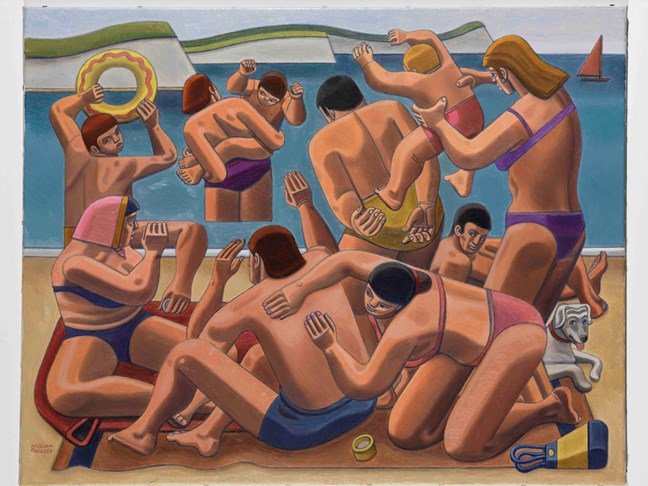 Image: The Seaside, c. 1966, oil on canvas by William Roberts, Arts Council Collection, Southbank Centre, London; ©Estate of John David Roberts; Courtesy the William Roberts Society; By permission of the Treasury Solicitor.
Located among Hastings's famous net huts, overlooking the largest beach-launched fishing fleet in Europe, Hastings Contemporary presents an exhibition to coincide with the surge in popularity for traditional seaside resorts this summer. Guest curator James Russell takes a fresh look at the British seaside in the first half of the 20th century.
From the 1920s to the 1970s, workers took advantage of their newly gained holidays to flock to the coasts. Young sophisticates cast aside Victorian attitudes to nudity and donned fashionable beachwear. Through their own exploration of the landscapes and inhabitants of the seashore, artists established the British beach as an essential site of the development of Modern British art.
Paintings, sculptures and drawings by major modern British artists including Paul Nash, L.S. Lowry, Henry Moore, Barbara Hepworth and Laura Knight are featured, together with advertising posters and archive photographs. Works of traditional subjects including fishermen, boats and the harbour by Eric Ravilious, John Minton and Prunella Clough contrast with experimental works that draw inspiration from the strangeness of the shore by John Nash, Edith Rimmington, Eileen Agar and Bill Brandt.
The exhibition continues until 31 October 2021; for more details visit the website https://www.hastingscontemporary.org/