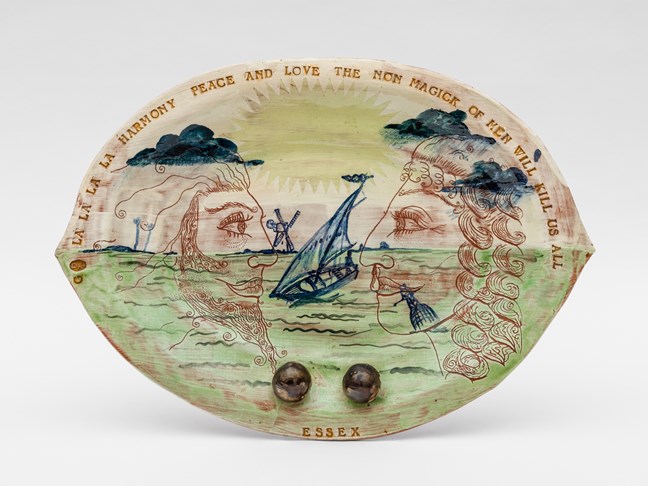 Image: Essex Plate, 1985, ceramic by Grayson Perry; Courtesy the artist and Victoria Miro
This exhibition, which was organized by the Holburne Museum, Bath, showcases Perry's earliest forays into the art world with works made between 1982 and 1994 when he first explored the potential of pottery to address radical issues and human stories. By the end of the period, he was established in the mainstream London art scene.  The 70 works, many of which have not been seen in public since they were first exhibited, reveal the early manifestation of Perry's distinctive voice that has established him as one of the most compelling commentators on contemporary society.
Some of Perry's early sketchbooks and films that were important in his development as an artist are included. Numerous themes seen in his later work, such as commentaries on class, identity and belonging and the importance of maps and mapping, are evident in these early items along with his wit and humour.
Many of the works displayed in this exhibition tell a very personal story, such as his relationship with Essex where he grew up. The evolution of Claire is particularly notable. Claire first appeared in the early 80s inspired by such powerful women as television newsreader and Princess Diana, but became an exuberant child-like figure after her 'coming out' party in 2000.
The exhibition continues until 5 September, 2021; pre-booking is essential at https://www.yorkartgallery.org.uk/