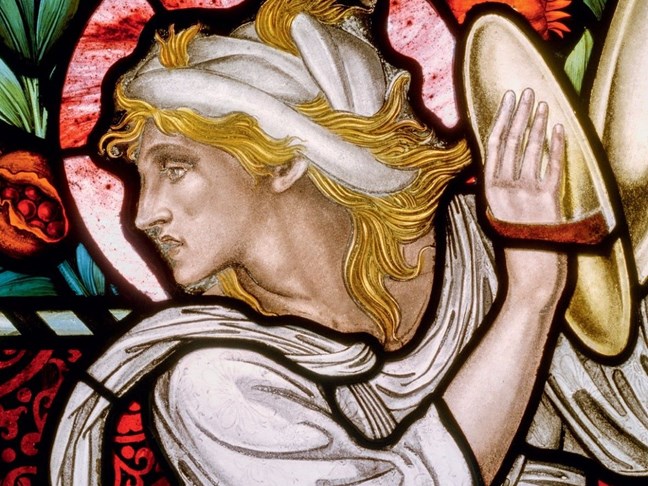 This lavish hardback volume is a sequel to Angels & Icons: Pre-Raphaelite Stained Glass 1850–1870 (2012). This study of the British Aesthetic Movement ends with 1898 and the death of Burne-Jones, who is singled out beside his 'unjustly overshadowed' colleague, Holiday. A further link between the two books is the anomalous inclusion in this volume of the missing General Index from Angels & Icons.
Three somewhat confusing introductory sections cover the evolution and distinguishing characteristics of stained glass. The author is on stronger ground when he can focus on Burne-Jones and Morris and discuss specific stained glass commissions, wonderfully illustrated nearby. This comes after a sequence of equally stunning images of stained glass by many other masters, captioned but unrelated to the text. Indeed, finding the references to each illustration can be time-consuming as there is no chronological or geographical gazetteer by artist, designer, studio or place for the windows mentioned in the text, only one at the end compiled for Fouracre & Watson of Plymouth, destroyed in the Second World War.
In his analysis of the evolution of Burne-Jones's windows Waters aptly quotes technical and polemical accounts by contemporary fellow artists and critics. He also makes welcome continual references to this much acclaimed 'thinking painter's' cartoons, his sources, iconography, and how his work reflected his troubled love life. Carew-Cox's detailed photographs enable us to become immersed in each window's painterly treatment (and boracic flaws), tonal subtleties, leading, and richly coloured glass. Further sections are devoted to Morris & Co.'s predella panels, William Morris's foliate and floral backgrounds, in addition to Holiday and his studio assistants.
Damozels & Deities: Edward Burne-Jones, Henry Holiday & Pre-Raphaelite Stained Glass 1870-1898.
William Waters & Alastair Carew-Cox Seraphim Press, 2017, £60 hb; special price to DAS members £50 inc. delivery: Seraphim Press, Home Farm, Abbots Morton, Worcs WR7 4NA
Condensed from a review by Nicola Gordon Bowe in DAS Newsletter No. 112