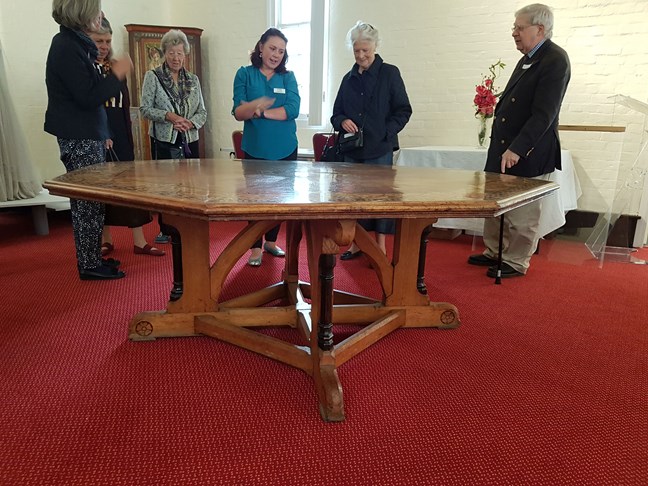 The Decorative Arts Society is delighted to announce that its Collections Access Grant for 2017 has been awarded to Portsmouth Museum for the project to photograph its holding of objects originally from the Handley-Read collection. 
This is the fourth Award made under the annual grant scheme launched by the DAS in 2014. The application from Portsmouth meets the aims of the Grant, which is to support curators in extending access to, and knowledge of, the decorative arts in their collections.
Portsmouth Museum has a large decorative arts collection of approx. 4500 items.  Of special interest are sixty-three pieces originally from the Handley-Read collection which include; ceramics, glass, furniture, sculpture and decorated tiles, with the following manufacturers, designers and craftsmen represented: Copeland & Garrett, AWN Pugin for Minton, Maw & Co, William de Morgan, Pilkington, Martin Brothers, Lalique, Dresser and Watcombe Pottery. The ceramics are of particular significance as they represent the highest quality in glazing and lustre techniques.
Only a handful of the pieces are currently on display to the public, the majority having in some cases never been on display before. So having all sixty-three pieces professionally photographed will be a rich resource for museum visitors and researchers. In October 2017 there will be a major re-display of the decorative art collection at Portsmouth Museum in which a larger percentage of the Handley-Read works will feature.
The benefits of this project include providing on-line access to the pieces on the museum website and for future use in a printed collection catalogue. With the works accessible on-line it will create greater awareness of the collection and help raise the national profile of the museum.
Contact : Curator Susan Ward susan.ward@portsmouthcc.gov.uk
(seen in the photograph third from right with a group of DAS members admiring the Museum's Pugin table)