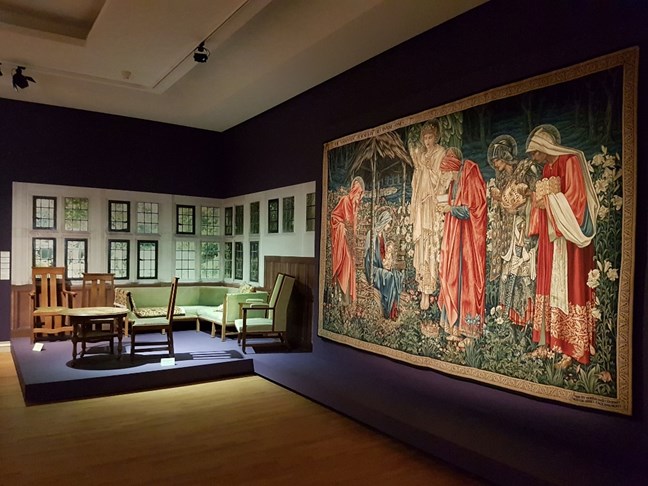 Image: The Adoration of the Magi tapestry
Visitors to the Musée des Beaux-Arts in Rouen this spring have a chance to enjoy a small feast of English Arts and Crafts. Until 20 May, a special display includes furniture from the Music Room of Le Bois des Moutiers (the house on the coast built by Lutyens for the anglophile banker Guillaume Mallet). The Adoration of the Magi has been brought back from Paris to feature in the exhibition. The tapestry, designed by Burne-Jones and John Henry Dearle, used to hang in the same room until it was sold by Mallet's descendants to help fund the maintenance of the house. It was later owned by Yves St Laurent and Pierre Berge, and in 2009 was given by Berge to the Musée d'Orsay.
The tapestry with its glowing colours is the centrepiece of a roomful of artefacts by key designers of the period mostly on loan from the Orsay. These include a stunning modern-looking cabinet of macassar and other fine woods by Gimson dated 1891, a table by Webb, hanging shelves by Godwin, a cabinet by Mackmurdo, chairs by EW Pugin, glassware and metalwork by Dresser, textiles and tiles by Morris & Co, and ceramics by De Morgan.
Many objects will be familiar to DAS members, but they come as a surprise among the museum's vast holdings mainly devoted to oil painting from the 15th to the 20th century. It is a collection of high quality, that runs from Perugino via Rubens, Caravaggio, and Poussin to Gericault, Delacroix, and Modigliani and a large group of Impressionists including several Monets. Local artist Jacques-Emile Blanche is also well represented.