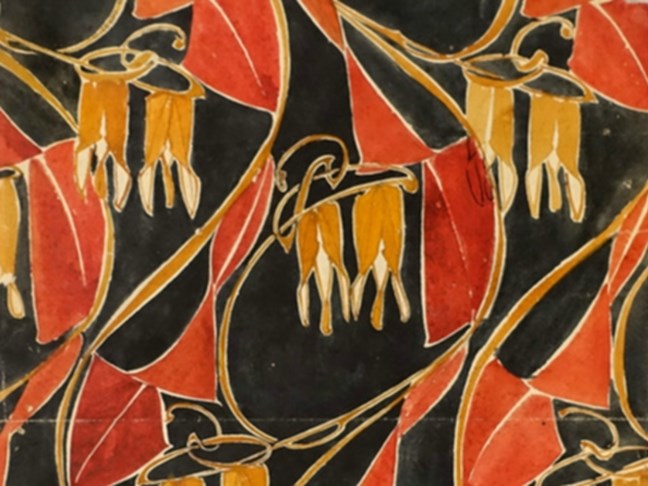 Image: Floral design, watercolour on paper, Denise Wren, 1920s.
Denise Wren (1891-1979) was the first woman studio potter in the UK. Kingston Museum Art Gallery's current exhibition focuses on ceramics, textile and wallpaper designs relating to her pioneering work and the Knox Guild of Design and Craft.
Wren attended Kingston School of Art from 1907, where she was a student of Art Nouveau designer Archibald Knox. When Knox abruptly quit his teaching post in 1912, she founded the Knox Guild (1912-1935) which championed Knox's philosophy of art. The Guild sold their work from a showroom in Kingston Market Place and held annual displays in Kingston Museum Art Gallery, plus three exhibitions at the Whitechapel Gallery in East London during the 1920s.
In 1920 Denise established the Oxshott Pottery in Surrey, where she produced bright glazed earthenware until the late 1930s. Her ceramics featured in the British Empire Exhibition of 1924. Together with her husband Henry, Denise wrote two books on pottery and sold her own designs for small-scale kilns to potters worldwide.
Post-war, inspired by her daughter Rosemary, also a potter, Denise began making salt-glazed stoneware, a technique which finally made her reputation. During the 1940s and 1950s she also sold many textile and rug designs to Liberty's and to Manchester-based textile firms.
Rosemary Wren and, later, Peter Crotty, Denise Wren's son-in-law, made substantial and generous donations to Kingston Heritage Service of Wren and Knox Guild ceramics, designs on paper and ephemera. Following the exhibition, which ends on 7 April 2018, a selection of Wren objects will be showcased in the permanent galleries at Kingston Museum (Wheatfield Way, Kingston upon Thames KT1 2PS; entry is free).