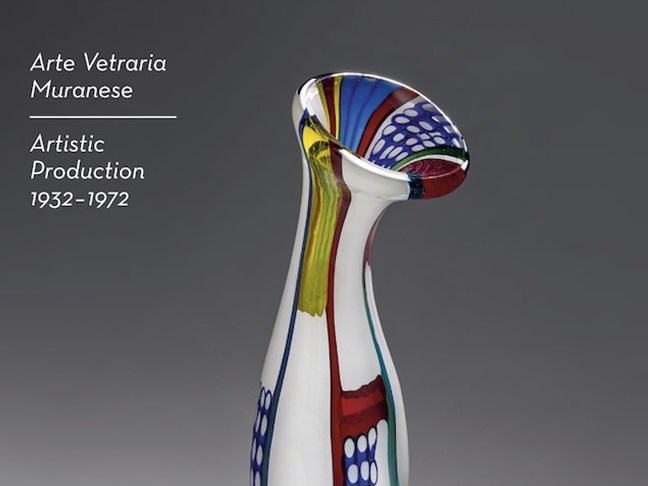 This well-organised and meticulous account of AVEM (Arte Vetraria Muranese) is a great addition to Marc Heiremans' earlier books on the factories of Fratelli Toso (2018), Vetraria Aureliano Toso (2016) and Seguso Vetri D'Arte (2014). It starts with a concise history of the firm, complicated due to the changing make-up of shareholders and staff. This highlights three main designers at AVEM – Guilio Radi, Giorgio Ferro and Anzolo Fuga – and their specific contributions to the factory's artistic production.
As early as 1940 Radi was experimenting with the chemical reactions of gold and silver foil; at the 1948 Venice Biennale AVEM exhibited his vases with 'peacock eyes'. Radi died unexpectedly in 1952, but luckily Ferro had joined in 1951. Although he only stayed four years his dramatic, sculptural forms, particularly where the handle is formed by piercing the vessel wall, put the firm at the forefront of innovative design. Ferro was replaced by Fuga (like him, trained as an artist), who introduced new modern forms with bold colour combinations. Radi's death affected AVEM's growth potential as he had dealt with US clients in English. Their letters were now ignored or answered in Italian, thus AVEM did not garner the international reputation that other Murano businesses actively sought.
This well-illustrated history introduces the images comprising most of the book. There is a section on the glass itself with gorgeous, full-page colour photographs of work by Radi, Ferro and Fuga, followed by archival photographs, drawings and a listing of trade fairs and exhibitions. This is an invaluable reference book on AVEM that no collector of Murano glass should be without and an important addition to the growing literature on the Murano factories.
AVEM, Arte Vetraria Muranese, Artistic Production 1932–1972
Marc Heiremans, Arnoldsche, 2020, £108 hb 
Condensed from a review by Sarah Nichols in DAS Newsletter No. 121