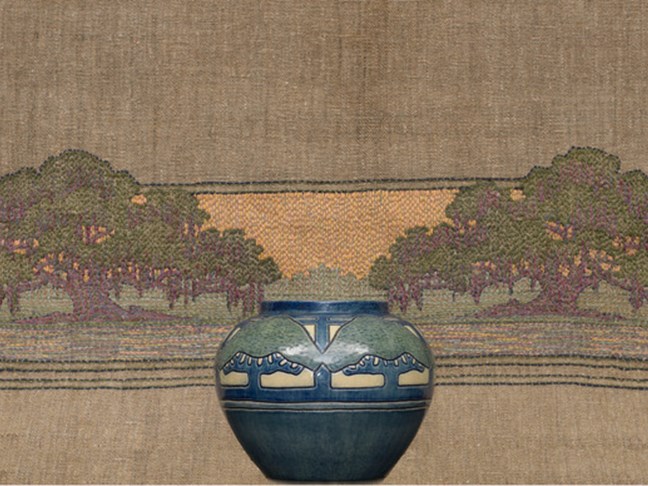 The American and British Arts and Crafts collections at Crab Tree Farm, visited by the Decorative Arts Society in 2007, are housed in several beautifully restored or specially created buildings around the property. The current exhibition features the Fuldner Collection of early Newcomb Pottery (1895-1914). Elegantly presented in a restored barn, and accompanied by a fully illustrated brochure, the exhibition runs over the summer.
Newcomb Pottery (1895-1940) operated in conjunction with art and design courses taught at the H. Sophie Newcomb Memorial College for women in New Orleans. In addition to pottery, women were taught needlework, metalwork and bookbinding.
Ceramics from the first, highly creative decade of the 20th century, are commonly known as 'early Newcomb'. The pots, all decorated by women, were finished with a high glaze, using primarily blues and greens as their basic colours, each drawing inspiration from the local, natural world.
The Fuldner Early Newcomb Art Pottery collection featured here comes from a significant Arts and Crafts collection assembled in Milwaukee by Barbara and her late husband, Henry Fuldner, over the past 30 years. Barbara Fuldner is a great-granddaughter of Gustav Stickley (1858-1942), a seminal figure of the American Arts and Crafts Movement.
For more information on Crab Tree Farm, visit their website www.crabtreefarm.org, and for details of opening times email: crabtreefarm1905@gmail.com