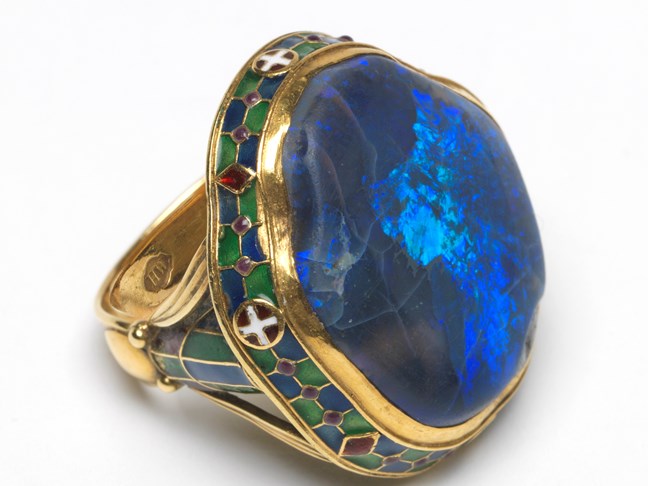 Image: Black opal, gold and enamel ring designed by Henry Wilson, 1900–1920. © The Fitzwilliam Museum
Showcasing little-known treasures from the Fitzwilliam Museum's outstanding collection, this exhibition in the Octagon Gallery is from 31 July to 11 November 2018. It celebrates exquisitely designed and often hand-crafted jewellery and metalwork from the late 19th and early 20th centuries.
Encompassing a wide range of styles, from the complex and intricate historicist and Neo-Gothic, the naturalistic Arts & Crafts, the sinuous curves influenced by the European Art Nouveau movement to the structural modernity of the 1920s and 1930s, the exhibition will feature over 70 pieces by 20 designers. Almost half of the pieces were given to the Museum by the distinguished jewellery collector, Mrs Hull Grundy.
The sparkling display will include jewellery by some of the of the finest jewellers of the time including Castellani, Giuliano, Robert Phillips and John Brogden, as well as a spectacular decanter by William Burges. There are important pieces of jewellery and silver by the most famous of Arts & Crafts designers, including C.R. Ashbee, Henry Wilson, Gilbert Marks and John Paul Cooper, and unique jewellery designed by the artist Charles Ricketts. The latter holds a special place in the history of queer art in Britain, having been designed for the couple Katharine Bradley and Edith Cooper, known collectively as author Michael Field. Modern silver is represented by leaders of the field, Omar Ramsden and H. G. Murphy.
Curated by Helen Ritchie, this display coincides with the publication of a book of the same name, published by Philip Wilson in late July 2018. Entry is free. For more details, visit the museum's website www.fitzmuseum.cam.ac.uk.