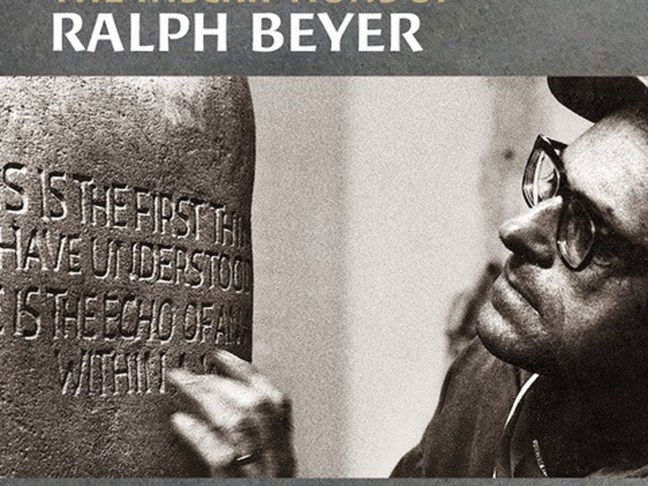 The inscriptional letter cutter Ralph Beyer (1921–2008) found a way between the craft-based historicism and technological modernism to establish an individual style of lettering. Beyer is now the subject of a beautifully illustrated book.
It is an interesting story, not least because Beyer showed little initial aptitude for inscriptional lettering. Despite coming from a highly educated and cultured environment in Germany, he drifted somewhat aimlessly early on. In England as a refugee he encountered key figures, notably Eric Gill, Henry Moore and Nikolaus Pevsner. Gradually, Beyer found his own way, developing the irregular and expressive lettering style that became his hallmark.
In July 1954 Beyer was introduced to Basil Spence, then three years into the design of the new Coventry Cathedral. Many aspects of Spence's design required textual or sculptural intervention to fully realise their narrative and liturgical aspects; Beyer's Tablets of the Word would become a key aspect of the nave.
Beyer produced a wide range of other work, including sculpture, poetic inscriptions and design for print, but the Coventry panels remain the definitive examples of his oeuvre. They are extremely well reproduced here, bringing out the texture of the stone and the action of the chisel.
The book follows a biographical sequence, charting the various stages in Beyer's life and his commissions. One could have asked for more analysis of the works, especially since this is a story that touches on larger issues than Beyer's career alone, but it is a fascinating life and a compendium of profound inscriptional lettering.
The Inscriptions of Ralph Beyer
John Neilson, Crafts Study Centre with Lund Humphries, 2021, £19.95 pb 
Condensed from a review by Paul Stirton in DAS Newsletter No. 124