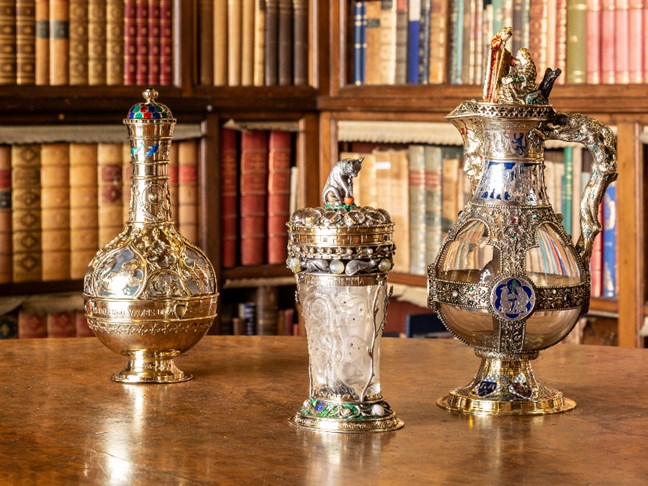 Image: L-R: Water Bottle (1880), The Cat Cup (1867), and Claret Jug (c. 1869-70) designed by William Burges and made by Barkentin & Krall. © The Bute Collection at Mount Stuart. Photo by Keith Hunter
Mount Stuart is celebrating the imagination, eclecticism, and craftsmanship of 19th-century design in its new exhibition on the Scottish Isle of Bute. The Neo-Gothic mansion was designed by the architect Sir Robert Rowand Anderson in the 1870s and for over 150 years, the Bute family have been passionate patrons of 19th-century decorative arts.
Showcasing spectacular examples of jewellery, furniture, watercolours, books, glass and stained glass, silver and other metalwork, this new exhibition will explore the Bute family legacy of commissioning and collecting Arts & Crafts and Gothic Revival masterpieces. 
Most of the objects on show will be reunited with their original sketches and drawings for the first time since their creation. Many of these treasures from the Bute Collection have never been on public display before and are paired with several rarely seen objects on loan from national institutions. 
Featuring the work of William Burges, Horatio Walter Lonsdale, Robert Weir Schultz, Sir Robert Lorimer, Christopher Dresser and William Morris, visitors will gain an insight into the creative process and close collaborative relationship between designer, maker, and client.
The exhibition continues until 30 October 2022; for more details visit the website
https://www.mountstuart.com/whats-on/fantasy-to-fabrication-exhibition .