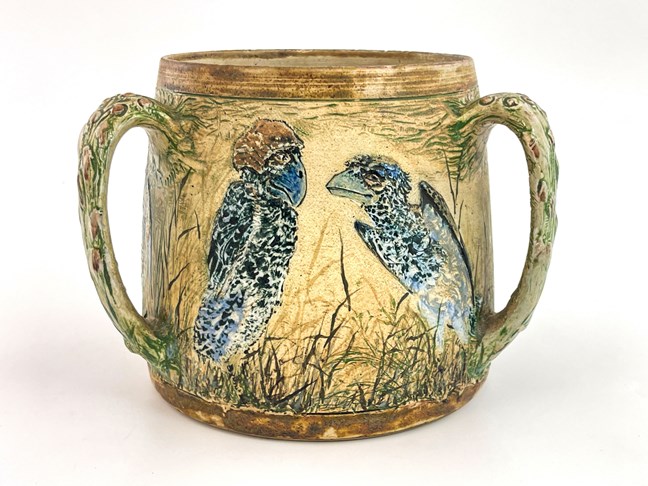 Image: Relief moulded 'characterful birds' stoneware tyg, 1911, by Robert Wallace Martin for Martin Brothers. © Kinghams Auctioneers. Photo by Eric Belgrave
A free exhibition of Robert Wallace Martin and the Martin Brothers ceramics to celebrate 150 years since the opening of the pottery and 100 years since the death of Robert Wallace opens soon at Kinghams Auctioneers in Moreton in Marsh. The non-selling show includes over 70 lots from well-known private collections in New York and throughout Britain.
Many important and recognisable pieces will be included; it will be the most important single gathering of Robert Wallace Martin's work to be exhibited in the last 40 years and features a talk by Christopher Jordan.
The show is open to all, with a printed catalogue available for purchase. A discounted rate of 20% off the printed catalogue (£16 rather than £20) is available for DAS members who attend.
The exhibition runs from 27 March until 31 March 2023, with a talk by Christopher Jordan on 27 March at 2.30pm. For more information, or to register interest in attending, contact enquiries@kinghamsauctioneers.com . Directions to the venue, which is on the edge of the Cotswolds in Gloucestershire, are available on the website at https://kinghamsauctioneers.com/